Pumping Irony
Kicking food addictions & flabby thighs 1 pound at a time…
Time to start the juice fast!
So since my last post, I have managed to gain 8 pounds over the holidays, in spite of my best efforts. I am temping at a payroll company, and December & January are their busiest months (because of W2s.) So, to help with the workload, they have catered in lunch for the past few weeks. My diet did not survive. I went from 201.4 after my detox to 209.0 Wednesday night, so we started the juicing right then and there. Now it is Friday (Shabbat Shalom, Y'all) and I weighed 205.4 this morning. Not bad!
I did have a solid lunch today; I met with Lacie at her office and we had a yummy organic vegan lunch (although I did spy some cheese chunks in the salad, so maybe not so vegan.) I mentioned my guilt about eating a solid meal, and I was reminded that what I was eating was the same stuff I'd be putting in the juicer anyway; then I had to comment, "Can you juice rice?" (The answer is probably no. I'd hate to have to clean that mess up!)
So anyway, I'm happy to be back on track. I wish I had something more amusing and witty to write, so I leave you with this: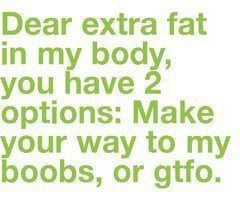 XOXO,
Kat
Read the article from 'Marc & Angel Hack Life' here.

When you stop chasing the wrong things you give the right things a chance to catch you.
As Maria Robinson once said, "Nobody can go back and start a new beginning, but anyone can start today and make a new ending." Nothing could be closer to the truth. But before you can begin this process of transformation you have to stop doing the things that have been holding you back.
Here are some ideas to get you started:
1. Stop spending time with the wrong people. – Life is too short to spend time with people who suck the happiness out of you. If someone wants you in their life, they'll make room for you. You shouldn't have to fight for a spot. Never, ever insist yourself to someone who continuously overlooks your worth. And remember, it's not the people that stand by your side when you're at your best, but the ones who stand beside you when you're at your worst that are your true friends.
2. Stop running from your problems. – Face them head on. No, it won't be easy. There is no person in the world capable of flawlessly handling every punch thrown at them. We aren't supposed to be able to instantly solve problems. That's not how we're made. In fact, we're made to get upset, sad, hurt, stumble and fall. Because that's the whole purpose of living – to face problems, learn, adapt, and solve them over the course of time. This is what ultimately molds us into the person we become.
3. Stop lying to yourself. – You can lie to anyone else in the world, but you can't lie to yourself. Our lives improve only when we take chances, and the first and most difficult chance we can take is to be honest with ourselves. Read The Road Less Traveled.
4. Stop putting your own needs on the back burner. – The most painful thing is losing yourself in the process of loving someone too much, and forgetting that you are special too. Yes, help others; but help yourself too. If there was ever a moment to follow your passion and do something that matters to you, that moment is now.
5. Stop trying to be someone you're not. – One of the greatest challenges in life is being yourself in a world that's trying to make you like everyone else. Someone will always be prettier, someone will always be smarter, someone will always be younger, but they will never be you. Don't change so people will like you. Be yourself and the right people will love the real you.
6. Stop trying to hold onto the past. – You can't start the next chapter of your life if you keep re-reading your last one.
7. Stop being scared to make a mistake. – Doing something and getting it wrong is at least ten times more productive than doing nothing. Every success has a trail of failures behind it, and every failure is leading towards success. You end up regretting the things you did NOT do far more than the things you did.
8. Stop berating yourself for old mistakes. – We may love the wrong person and cry about the wrong things, but no matter how things go wrong, one thing is for sure, mistakes help us find the person and things that are right for us. We all make mistakes, have struggles, and even regret things in our past. But you are not your mistakes, you are not your struggles, and you are here NOW with the power to shape your day and your future. Every single thing that has ever happened in your life is preparing you for a moment that is yet to come.
9. Stop trying to buy happiness. – Many of the things we desire are expensive. But the truth is, the things that really satisfy us are totally free – love, laughter and working on our passions.
10. Stop exclusively looking to others for happiness. – If you're not happy with who you are on the inside, you won't be happy in a long-term relationship with anyone else either. You have to create stability in your own life first before you can share it with someone else. Read Stumbling on Happiness.
11. Stop being idle. – Don't think too much or you'll create a problem that wasn't even there in the first place. Evaluate situations and take decisive action. You cannot change what you refuse to confront. Making progress involves risk. Period! You can't make it to second base with your foot on first.
12. Stop thinking you're not ready. – Nobody ever feels 100% ready when an opportunity arises. Because most great opportunities in life force us to grow beyond our comfort zones, which means we won't feel totally comfortable at first.
13. Stop getting involved in relationships for the wrong reasons. –Relationships must be chosen wisely. It's better to be alone than to be in bad company. There's no need to rush. If something is meant to be, it will happen – in the right time, with the right person, and for the best reason. Fall in love when you're ready, not when you're lonely.
14. Stop rejecting new relationships just because old ones didn't work. – In life you'll realize that there is a purpose for everyone you meet. Some will test you, some will use you and some will teach you. But most importantly, some will bring out the best in you.
15. Stop trying to compete against everyone else. – Don't worry about what others doing better than you. Concentrate on beating your own records every day. Success is a battle between YOU and YOURSELF only.
16. Stop being jealous of others. – Jealousy is the art of counting someone else's blessings instead of your own. Ask yourself this: "What's something I have that everyone wants?"
17. Stop complaining and feeling sorry for yourself. – Life's curveballs are thrown for a reason – to shift your path in a direction that is meant for you. You may not see or understand everything the moment it happens, and it may be tough. But reflect back on those negative curveballs thrown at you in the past. You'll often see that eventually they led you to a better place, person, state of mind, or situation. So smile! Let everyone know that today you are a lot stronger than you were yesterday, and you will be.
18. Stop holding grudges. – Don't live your life with hate in your heart. You will end up hurting yourself more than the people you hate. Forgiveness is not saying, "What you did to me is okay." It is saying, "I'm not going to let what you did to me ruin my happiness forever." Forgiveness is the answer… let go, find peace, liberate yourself! And remember, forgiveness is not just for other people, it's for you too. If you must, forgive yourself, move on and try to do better next time.
19. Stop letting others bring you down to their level. – Refuse to lower your standards to accommodate those who refuse to raise theirs.
20. Stop wasting time explaining yourself to others. – Your friends don't need it and your enemies won't believe it anyway. Just do what you know in your heart is right.
21. Stop doing the same things over and over without taking a break. – The time to take a deep breath is when you don't have time for it. If you keep doing what you're doing, you'll keep getting what you're getting. Sometimes you need to distance yourself to see things clearly.
22. Stop overlooking the beauty of small moments. – Enjoy the little things, because one day you may look back and discover they were the big things. The best portion of your life will be the small, nameless moments you spend smiling with someone who matters to you.
23. Stop trying to make things perfect. – The real world doesn't reward perfectionists, it rewards people who get things done. Read Getting Things Done.
24. Stop following the path of least resistance. – Life is not easy, especially when you plan on achieving something worthwhile. Don't take the easy way out. Do something extraordinary.
25. Stop acting like everything is fine if it isn't. – It's okay to fall apart for a little while. You don't always have to pretend to be strong, and there is no need to constantly prove that everything is going well. You shouldn't be concerned with what other people are thinking either – cry if you need to – it's healthy to shed your tears. The sooner you do, the sooner you will be able to smile again.
26. Stop blaming others for your troubles. – The extent to which you can achieve your dreams depends on the extent to which you take responsibility for your life. When you blame others for what you're going through, you deny responsibility – you give others power over that part of your life.
27. Stop trying to be everything to everyone. – Doing so is impossible, and trying will only burn you out. But making one person smile CAN change the world. Maybe not the whole world, but their world. So narrow your focus.
28. Stop worrying so much. – Worry will not strip tomorrow of its burdens, it will strip today of its joy. One way to check if something is worth mulling over is to ask yourself this question: "Will this matter in one year's time? Three years? Five years?" If not, then it's not worth worrying about.
29. Stop focusing on what you don't want to happen. – Focus on what you do want to happen. Positive thinking is at the forefront of every great success story. If you awake every morning with the thought that something wonderful will happen in your life today, and you pay close attention, you'll often find that you're right.
30. Stop being ungrateful. – No matter how good or bad you have it, wake up each day thankful for your life. Someone somewhere else is desperately fighting for theirs. Instead of thinking about what you're missing, try thinking about what you have that everyone else is missing.
Shalom, y'all!
I am able to post my mundane adventures again, thanks to another temp job (this one runs until February.) While my weight loss hasn't been perfect (I weighed in at 203.5 yesterday) it has stayed off. We haven't started 4HB yet, but because of a quirky holiday season, we will start juicing again after the new year; not the insane veggie-only detox juicing, but a fruit & veggie juice diet to help undo what we may possibly do during the holidays. It's always good to have a rescue plan just in case (as I sit here with miscellaneous holiday nummies on a napkin within arm's reach…)
I am pleased to announce that today is day 49 without a soda. I have never gone this long without a Coke or a Sun Drop, and while every so often I get the urge, I really don't miss it. This could explain why I am eating stuff that is not so good for me (in moderation [i.e. pasta, cheese and thick sauces]), I am not gaining back a ton of weight like I used to (eff you very much, HFCS!)
So this is where I am at the moment. I may post more soon, but for right now, I just wanted to check in and let you know I am still here, and still over 200 pounds…but not for long!
Well, today is my last day on this job. *sob* I am a temp, and as of right this moment, I have nothing lined up after today. If I am still on the bench, I'll come back here for one week in December, but that's all. I'm going to miss these two guys I work with in this little sardine can (the office is a single-wide trailer.)
As a good-bye-good-luck token, the Boss bought us fried chicken. No, soul food is not on my diet plan, but it was nummy nonetheless. DH & I were bad last night, going out for Mexican. Plus, with TOM approaching, I dare not look at the scale. I'm just going to stare at my best progress on my little weight ticker in blissful ignorance, and update it again when things look better.
Anyhoo, wish me good luck & success on my next job. May it be where God wants me to be, with better pay and longevity!
XOXO,
Kat
I just read this information from the "To Your Health" newsletter. This is something that affects me personally, and I'm sure I'm not the only one. Arm yourself with information, so you can make smart choices. Remember: It's your life. Time to make the right changes. Here's to your Health, fellow Fat Chicks!!!
The Facts of Fructose
By Marlene Merritt, DOM, LAc, ACN
People are quick to say that the reason we are so overweight in this country is because we eat too much and don't exercise enough. But if that was so, how do you explain the epidemic of obese six-month old babies? Are they not spending enough time on the treadmill? Any theory that tries to explain the obesity and diabetes epidemic must also be to explain this as well, or it's not a fully accurate theory. Let's look at what actually does explain this.
Everyone knows that fructose is the sugar found in fruit. And if it's found in fruit it must be safe, right? Wrong. This misconception is being perpetrated by the food industry and we are falling for it, simply because most people don't know the details or the impact. Let's take a look at those details.
First, a few basics. Fructose is the simple sugar found in fruit. Glucose is the simple sugar that our body runs on, and is the result of carbohydrates being broken down. Sucrose (white table sugar) is a 50-50 makeup of fructose and glucose. So the first thing to remember is that white table sugar also has fructose in it. High fructose corn syrup (HFCS), which everyone demonizes, is a combination of 55-45 makeup of fructose to glucose (typically), and since fructose is quite a bit sweeter than glucose, that little bit makes HFCS sweeter as well. You'll see in a moment, though, why white table sugar and HFCS should be viewed with the same suspicion.
The corn industry has a campaign that argues that sugar and HFCS are basically the same, which is accurate. But they're arguing that they are both safe, and that we cause health problems because we all eat too much of both. The 1986 FDA report said sugar was safe when consumed in the current amounts, which, at the time, was an average of 40 pounds per year of added sugars. It would be great if people were eating 40 pounds per year — the average these days is 140 pounds. The health problems we see are coming because of the overload and because fructose metabolizes differently and with different damage, than glucose.
We have forgotten that nature designed fruit so that we couldn't overeat fruit because one, the fiber would fill you up, and two; fruit was seasonal (you'll notice now it's not — we have blueberries available all year) so it's easy to eat too much. Keep in mind also that fruit and vegetables have been bred over the years to have a much higher sugar content than their wild counterparts.)
We've been trained to think that sugar merely causes your teeth to rot, makes PMS worse, and makes people fat. But those things are mere inconveniences compared to the bodily damage glucose and fructose do — some of the results are the same for the two sugars, and some are substantially different. You could eat the same amount of calories for glucose and for fructose, but the health consequences are quite different.
Let's talk about how fructose behaves in your body. For starters, it's not at all like glucose — it doesn't trigger insulin at all, but goes directly to the liver to be metabolized. The term "low-glycemic" is often used with high fructose products (like agave nectar) which is totally accurate — it doesn't put glucose into the bloodstream at all because it has no glucose; it's all fructose. That doesn't mean it's safe, though. Because it doesn't trigger insulin, the body can't tell that it's full. And fructose also suppresses leptin (which would tell you if you were full) and does NOT suppress ghrelin (which makes you think you're hungry). The end result? Fructose has you eat more.
Fructose is also seven times more likely than glucose to make AGE's — Advanced Glycation Endproducts. They are named AGE's for a reason — they cause you to age faster. You know how if you cook sugar long enough it caramelizes? That's basically what happens in your body with glucose and fructose. When proteins in your body are caramelized like that (glycated), they are permanently damaged and can never recover. And AGE's are implicated quite strongly in Alzheimer's, cardiovascular disease, stroke, cataracts, nephropathy, heart attacks, atherosclerosis, arthritis, etc. The list is quite long. This is one of the main reasons diabetics have such health problems.
The liver takes the biggest beating in the metabolization of fructose, even more so if the fructose coming into the system is in liquid form (juice or soda, for example), as it hits the liver all at once (versus an apple, which has fiber to slow the fructose down). The chemical reactions in the liver result in a few things, one of which is higher uric acid (which increases inflammation, and also causes high blood pressure), and the other of which is a fatty liver. A fatty liver is one of the major causes of insulin resistance, as the liver is the first tissue to become resistant. Studies are being done at the University of California to see how quickly a high fructose diet can cause a fatty liver in adults. The researchers are estimating that, with three juice or soda drinks a day; it could be as quickly as in two weeks. The research hasn't been released yet, but it has already been shown in lab animals.
The implications start to become staggering, because, between the damage that simply glucose and insulin do from high carb diets, the addition of fructose damage is starting to be linked to the shocking increase of obesity and diabetes in the last three decades. In damaging the liver, this speeds up the process of insulin resistance and metabolic syndrome. Metabolic syndrome is the conglomeration of severe health impacts from insulin resistance: high cholesterol, heart disease, diabetes, and a higher incidence of cancer. About 75 million Americans have metabolic syndrome — that's 1 in 4 people. And the very first symptom? An expanding waistline. Why is that? The one big fact that people often don't know is: fructose turns into fat faster than any other sugar.
Fruit juice, next to soda, is one of the biggest offenders of high fructose intake (and that's the 100% juice drinks — the ones that are 10% juice, for example, are sweetened with sucrose or HFCS). Juice has been directly correlated to increasing BMI scores in children and low-income children ingest the most, as government programs cover the cost of processed, inexpensive food.
Many people argue that HFCS is much more damaging than regular sugar but that's only slightly true in the sense that it has more fructose than glucose. But since the average American is eating 140 pounds of sugar a year (and remember, sugar is a 50-50 mix of fructose and glucose), does it really matter? It's simply an overload. It's not the bit of sugar in the holiday cookies you ate, it's that there is also fructose in the bread they had that morning (try finding a supermarket bread that doesn't have HFCS in it's ingredients), in the crackers/snack food they had that afternoon, in the soda they drink, in the spaghetti sauce out of a jar they used for dinner.
Children have it even worse. It starts with drinking formula: over 40% of formula is corn syrup solids, and over 10% is sugar (and a high sugar intake as an infant is linked to increase sugar cravings as an adult). As they get older, they are presented more and more with processed foods — fruit roll-ups, juice, candy, popsicles, lemonade, crackers, cereals… it just goes on and on. Then they go to school and with sodas in most schools, they add to the fructose load. This would be why nearly 1 in 5 children is obese.
Diabetics used to be advised to use fructose as a sweetener because it didn't trigger insulin, but you can see that the evidence is now showing that it accelerates all the health problems of diabetes, and has now stopped being recommended. And for those of us who aren't as sick, it's basically impossible, without a lot of intention, to grow up (and be an adult) and not have a high fructose intake.
So what do you do? Read the labels — most processed foods have sugar or HFCS added. Remember that sucrose is half fructose. Make as much of your own food as you can. Avoid all fruit juice and soda — this is key. Avoid crystalline fructose, which is now being added to sodas and juices — this is an even more concentrated form of fructose.
And remember not to fall for the marketing. Sugar and high fructose corn syrup are basically the same thing — and the fructose in both will, or already has, damaged you faster than you think.
---
Marlene Merritt, DOM, LAc,
is a licensed acupuncturist and runs a wellness center in Austin, Texas. She specializes in Oriental medicine and nutritional protocols.
Visit this page at:
http://www.toyourhealth.com/mpacms/tyh/article.php?id=1488&pagenumber=1