Filed Under Uncategorized | 6 Comments
I had a lot of fun last night at the Pampered Chef quarters auction. I even won a couple of things (Dot bowl trio and mini chopper). My MIL won the $100 gift certificate at the end 🙂 There is another one in a couple of weeks that I may go to. I mean heck, all it cost me was $10 if I bid on everything and look at what I got lol.
Today is another rainy, dreary day. I'd really rather not have to go out at all but I do have a few places to go…can't very well do laundry with no laundry detergent and I need to go to the bank so my account doesn't get an overdraft fee *sigh*. DD is in a mood today and will not stop getting into anything and everything she can. I can tell I'm not going to get anything done today and I am already tired from staying up with her until midnight. At least DH didn't wake me up last night. Oldest DS has a field trip to a nature center here in town today so he was all excited. I actually got them out the door on time and without all the normal stress so that is good. I hate having to yell at them to get ready and then they leave..makes me feel bad.
Nothing much to report today and I can hear my little pixie climbing so I am going to go! Have a good day everyone!
Filed Under Uncategorized | 5 Comments
Poor Monday…I almost feel sorry for it lol. This weekend went by waaay too fast. Mostly just a bunch of miscellaneous stuff going on…Saturday I did scrapbooking with a friend and didn't get home till late. Yesterday was spent running errands with the 3 kids in tow while DH went golfing all day with a friend. Yeah, THAT was fun. Then before I knew it, here it is Monday again.
Today will consist of doing more laundry, running a couple errands, making some phone calls and then a Pampered Chef quarters auction this evening that I am attending with my MIL. Wish me luck that I win something. Need to call DH's doctor this morning…they put him on a new med a couple of months ago, and lately I have noticed him talking in his sleep and last night scared the crap out of me. Usually it's something funny or benign, like the time last week he kept going on and on about frogs. Or the time that he kept waking me up by patting me on the head. But last night whatever he was dreaming about must not have been good because I had just gotten up to put DD back in her bed after she'd fallen back asleep, and all of a sudden he yells "You better shut the F*** up!" I jumped about a mile and looked over at him and he was still snoozing away. I seriously debated whether or not I should sleep on the couch. We've been together for 15 years and I've never heard him do this till recently.
Think I will go ahead and finish posting, get dressed and go for a walk before the rain moves in. It is 9:00 and I am sitting here still on the couch lol. Have a great day chicks!
Filed Under Uncategorized | 2 Comments
We made it! Another lovely weekend is upon us 🙂 Today is supposed to be another beautiful, sunny, 84* weather day and I am planning on staying home to enjoy it. Need to finish getting caught up on Mt. Washmore and clean a couple of rooms, and THEN I am going on another wasp hunt. I have GOT to figure out where those buggers are coming from because I can't get my kids to play outside with them around. Both boys have been stung a couple of times over the past couple of years and now they are terrified of them. I do plan on taking DD for a walk to hopefully get her to take a nap at a decent time. The past couple of days she hasn't crashed till 3:30 or so and then winds up being up till midnight and I just can't have that! I am trying to get more into the habit of going for daily walks, it is sad how pathetic my stamina really is. I want to get my kids involved too, but I'm having a hard time fitting in that evening walk that I'd like to do after dinner.
This weather has only reminded me that I have a little over a month before the boys are out of school and my summer plans are not solidified yet. So I will be working on that today as well, and then I NEED to get my scrapbooking stuff together. If anything I need to make sure I have it all in one spot and ready to go. And maybe I'll go clean out my car too while the weather is nice..It could really use it. Hmm..
Holy cow..I have just sat here reading my entry and it is amazing to me the difference in my energy and motivation levels on days like this. I feel so alive today, like this is how things are SUPPOSED to be. Maybe I really should talk to my doctor about this S.A.D. thing. Hmm..
Ok, I am off to face my adventures for the day 🙂 Have a great day chicks, and ENJOY your weekend!
Filed Under Uncategorized | 3 Comments
At least, it will once my Tylenol kicks in lol. I did not sleep well at all last night. DD was tossing and turning all night and wound up in our bed around 4:30 this morning. I was up off and on all night, tired but just couldn't sleep. And I must have layed wrong because one side of my neck down by my shoulder is a little stiff and sore this morning.
Today is supposed to be in the 80s and I am so excited about this! Maybe I will finally warm up sometime soon 🙂 I plan on getting the water table out for DD to play with this afternoon. I need to do some laundry, take my shower and go to the grocery store. Today is $10 off of $50, plus I have close to $20 in coupons to take off of the remaining total so I should be able to get some good stuff for cheap. Which is good because we are almost out of meat and veggies and fruit. Having lunch at 12:30 with my dad (got pushed back from last week). Tonight is movie night at a friends house if I feel like getting out.
Not much else to report and DD is trying to climb into the tub so I better get going!
Filed Under Uncategorized | 2 Comments
anyone else wonder if it will come down to Mike and Ron? They are the one team that is still together and both still have quite a bit to lose….Neither will vote the other out as well. Thoughts?
Filed Under Uncategorized | 4 Comments
And yay for Wednesday! That means that the week is halfway over and the weekend is closing in on us! *dangles a carrot in front of "the weekend"..Hurry hurry, c'mon, you can do it! * I am feeling a little bit better this morning. TOM arrived a bit unexpectedly this morning sobetween that and just needing to vent out my frustrations, I think that was my main problem yesterday. I sure hope so because yesterday *I* didn't even want to be around me! Anyone else ever get those types of days? I swear ever since I had Rhianna I have horrible PMS..I don't know why or what to do about it but geez…
Got the kids off to school this morning..one was dragging but at least not fighting me on getting ready for school. DH was playing on the Wii last night and the kids were watching him…well the next thing I know it is 9:00 and I get ready to go in there (I was hiding in the bedroom watching BL) to tell him good night and the boys were still up! Their bedtime is 7:30!!! And the youngest has a field trip today! GAH! I am hoping DS#2 isn't going to be in a bad mood when he gets home becuase like I said, he was d-r-a-g-g-i-n-g.
So, I don't know about the rest of you but I was not happy with who got sent home last night on BL. I felt bad for her, because she still has so far to go, and here the other one was whining "I'm not ready to go home, I still have so much to learn". Blah blah blah..can we whine a little more? At least that person was STILL LOSING. Not GAINING! Ugh. I also wonder how the people from previous seasons are doing now, especially those in the beginning. Hmm.
Well, it is now after 10:00 and I have a lot of damage control to do here at home and errands to get done before noon so I'd better get moving. I'm hoping to get in another (yes, another) walk in today. I took DD for one yesterday trying to get her to take a nap (no go)…it was sad..we saw a baby bunny that I guess must have been hurt or sick, it was sitting in a puddle of water and just kept flopping around like he couldn't get his back legs to move right. I'm pretty sure he didn't make it 🙁 Hopefully today we will see happier things!
Filed Under Uncategorized | 3 Comments
WARNING: Pity party ahead!
Feeling a bit down in the dumps this morning. Yesterday was just not a good day for me. It was going alright until the boys came home from school and then the whining and bad attitudes just got the better of me. So I was in a pissy mood all evening, and then DH was yelling at the boys about everything, calling them lazy etc. When he does stuff like that I just want to grab the kids and leave. No matter how rotten they are acting they don't deserve to be treated like that. I am not sure what got into DH because he normally does not act that way at all, but like I said, I can't stand it when he does. It just pisses me off and makes me want to get the hell out of here with the kids. And I am totally stressing about money, or our lack thereof and all the things we need it for. Like finishing Rhianna's room so she can get the heck out of ours, getting the ceiling/roof in the boys room fixed so it can stop leaking, buying a new lawnmower because DH left ours out of the shed all winter so now it probably CAN'T be fixed. I just forked out almost $200 on 2 new tires for his car, $50 for his new glasses. I'm sick of not getting enough sleep, I'm sick of not having any help around here, and sick of being cold..I'm just..UGHHHHHHHH!!!!!!!!!!!! And, DS has been complaining of pain in his heels for a while now, so I'm probably going to have to take him to the doctor about that. I am pretty sure it is a combination of his age/growth and the fact that he, like me, is overweight and I don't know what to do about it. Everything I have read on the internet says that at the age he is, there is some sort of growth/bone development going on in their feet and that this pain is very common, and even more so in kids that are overweight. He doesn't really eat that unhealthy but he definitely eats way more than he should portion wise, and he also isn't very active. I've already decided that the video games are going to be for weekends only and only one hour per day at that. When he gets home from school he can do his homework and then either clean his room or go play outside. We have soccer balls and footballs, but I'm looking for some other good "outside" toys/ideas that would be good to have on hand that aren't $$ (see $ problem above). I'm looking for things I can send with him into the backyard while I'm working on getting dinner going, etc. He is 8 btw.
I can't wait for this weekend..I have a scrapbooking thing I am doing with a friend on Saturday, so maybe that will cheer me up and help me get out of this funk. I think I just need a break and time to relax and regroup.
Looking ahead and forward to Wednesday, because after that it's all downhill to the weekend!
Filed Under Uncategorized | 3 Comments
It is Thursday right? I swear all the days are just blending together anymore. I am sitting here in my bathroom posting while watching DD play in the tub with one of her new toys..Barbie Mermaid Falls. Man, kids sure have so much cool stuff to play with these days! LOL
Got both kids out the door today on time and without a huge chaotic hassle, which is SO nice for a change. I loved not having to fight with the youngest boy to get dressed or rushing to make lunches or breakfast. And DH remembered to lock the dog out in the backyard. So it is shaping up to be a good day lol! Need to do some grocery shopping this morning while DD is in a decent mood and then we are meeting my dad for lunch. It is at a diner here in town, so I'm hoping to find something that isn't totally unhealthy. I have only been there once so I don't really remember what is on their menu. I just hope their service is speedy as we are going right around the time that DD tends to have her "I need a nap" meltdown.
Hmm…not much else is going on so I guess I will go ahead and get ready to go! Have a great day Chicks!
Filed Under Uncategorized | 3 Comments
My camera decided to crap out on me, so the pictures aren't the best, but here are a few from Saturday's family party 🙂
Rhianna's Tinkerbell cake…I could have done better but it was a bit difficult trying to decorate it with a 2 year old trying to "help".
Getting ready to blow out the candle…

Opening presents…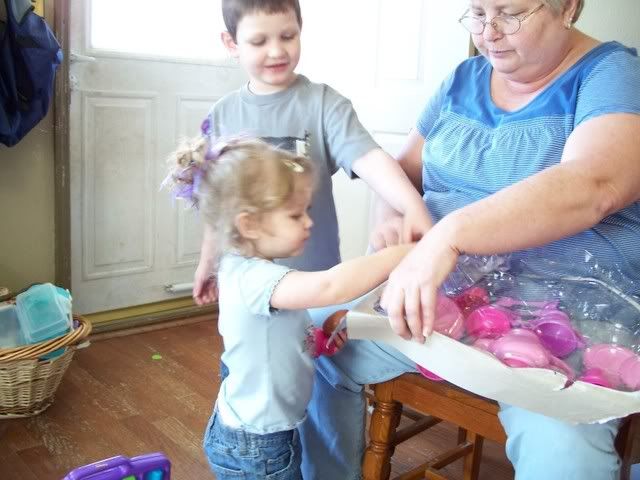 Filed Under Uncategorized | 3 Comments
I can't believe it has been 2 years already!  Ok, so she acts like she is older than 2 a lot of the time, but still…!  It was very weird this morning looking at the clock and realizing that at that time 2 years ago that I had just met her for the 1st time.  And to see how much she has grown and what a "big girl" she is is just mind blowing.  We are not doing much to celebrate today, the "party" will be on Saturday.  Given her age, we are just doing cake, ice cream and presents in the afternoon.  I am making (or attempting to make) a Tinkerbell cake for her, so I hope it turns out well.  If so I will post pictures!  
I have so far survived spring break with the kids, although it has been rather boring minus the fights lol.  I just really cannot seem to make myself want to go anywhere when the weather is this miserably cold and wet.  Less than 2 months till they are out of school for the summer.  I have decided to do a bit of a summer school with them here at home.  Nothing major, but just something to hopefully help keep them from losing what they learned through the year.  I have picked a few themes and we will do art, cooking, math, language activities throughout the week and then one day every week or two I will do a "field trip" of sorts.  There are lots of great museums and parks around here, and they are mostly FREE, so this will be great.  I am hoping there will also be lots of free activities around town again this year like last..last year there were some great programs at the library, free movies at various nearby movie theatres, a hands-on art series and farmers market on Saturdays, etc.  Plus we are members of our local Y and they have an outdoor pool that I plan to visit at least a couple of times a week.  Hopefully with all of that, I will manage to avoid WWIII for another summer at least!
Well, dinner is almost ready, and after that the boys need to go to bed, so I better get this posted while I can.  Sad to see the journals closing but hopefully we can all stay in touch through the blogs.  I do wish they had a way to mark the ones that have new postings, but I guess it could be worse.  At least I am using Safari, so I can just go down the list and open up a new tab for each blog and go through them that way.  Be happy ladies, it's almost the weekend!!!
keep looking »