HA! the poor fella has no idea what his evil, mean Momma has planned for him at 10am!
Off he and I will go for some special "just us" bonding time..to the self-serve dog wash! Yes fellow chickies, I cheat and do NOT ruin my crappy old tub to wash them..Been there, tried that, ended up having every towel soaked, every wall with wet dog hair applique….and wet dog. NO FRICKIN way again! hahaha..*until the shithead finds another skunk) I have 2 dogs which are very close to each other. many times inseparable would be the correct word. Take one and the other one panics..The other one would be "Jessie-Blue…my heart dog. She and I have been doing lots of bonding lately…Snakers spends time with his poppa while he sleeps.(unless I make us all get outside and do something..then this happens.
    Unless I take them out they don't usually get out. But they were my dogs before he ever came so it is still my dogs and my responsibility. I digress..So this dog who hates baths, toenails being clipped AND being blow-dried is about to get that done. *oh happy happy joy joy*. I should work off lots of calories there….good thing they give you a long plastic apron to wear…seriously! Did I mention he is the ize of a small horse and weighs a mere 108lbs??? Think I might actually even dare to bring my camera…my poor boy. He is so sweet and loving…and a dork…and I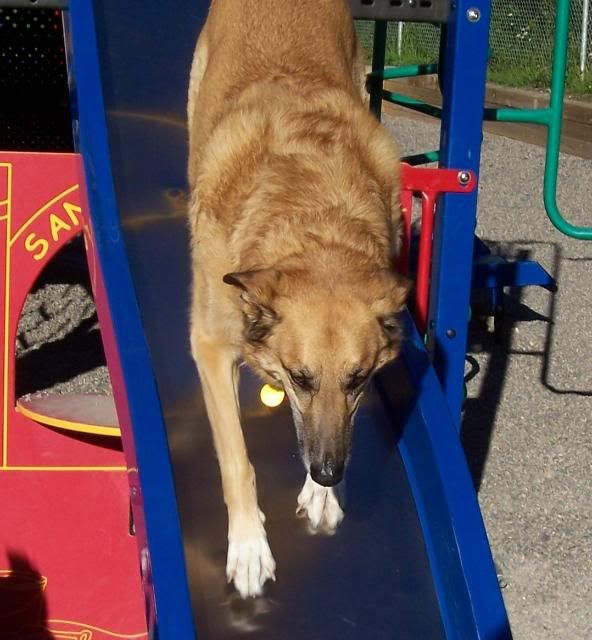 still manage to take photos at every chance I can.
   Weight wise, Up & Down…and not following much except for the Mars bar plan. I do not even like Mars bars!!!!!!! Following something a parent used to eat all the time. Dumbazz that I am! I found out on facebook yesterday that my centre that corporate took over from the previous owner last month…is closing. lovely. just lovely. Not happy over that. especially since I found out through FACEBOOK! Nice to see corporate cares enough to call their customers. I guess i will have to call the herbal magic centre next town over. there is another corporate owned one the other side of the city, it is the one the previous owner babied..while the other 2 were so badly managed..and I do not want to go there. The streets are congested and badly laid out,you pay to get across the bridge etc. truth be-known, I am just being a pissy-face about it. there..now gimme back my lollipop..tantrum over! hahahah (I hope)
    Sister, bil and GodKidlets are coming up tomorrow for a visit. I can't wait!  I have been getting closer with her over the past few months (only one out of the family) and she and I have been really doing well. I borught my Jessie-Blue with me the last 2 times as my main objective was to see Nanny. You can bring in Jes and it gave Nan some more happiness to see a dog in her own space, where she did not have to share…I really believe it helped quiet her mind some.
With dementia that can be needed as well. I would love to bring jake to see her, she was always her fave dog, but he is HUGE and he might frighten the others..who knows? Maybe next time I will! I would love too…I can see poor Jes squirming like a fiend the entire time Jake and I are gone and s/o getting angry because HE can't sleep! hahaha. If it wasn;' for causing Jes stress I WOULD do it..just to be a meanie. He always sleeps anyways. get up for a few hours, play a game or watches stupid tv..whines and goes back to bed because he has to work nights. (he wont go and really try to find a better job either although there are tonnes around here. If he cant sit at a call centre he doesnt want it)
           Was looking at my lawn the other day and saw some moss growing! ANythign green at the time was great too see! But how can I kill the moss without the grass as it is too tender right now to use anykind of a chemical? Or is it? what is best as well to get rid of strawberries, moss, weeds etc from your lawn? I do not mind using natural either, although you can usually tell who has the natural product lawn vs the weedman lawn..they are never as green or nice..
the below pic is a field I like to take themt o run in…
   Oh well, time to drink my tea, eat a PROPER brekkie ( I think I just might need the energy with this am's planned outting) and try to follow the plan today..and visit the neighboring towns Herbal Magic cente too.
Have a WONDERFUL Saturday chicklets….may it be a blessing to y'all!
Filed under: Uncategorized on April 25th, 2009