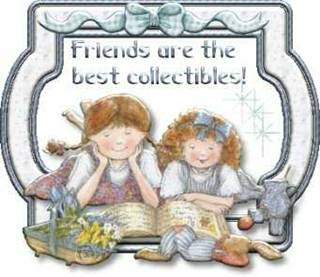 Good morning everyone ... sorry I didn't post last week but it was a week from H_ _ LL for me! It seemed that anything that could go wrong - DID. iI had troubles galore with my computer ... I downloaded some critical updates and the fun began ... my dial-up would not re-connect and I would have to re-start my computer every time I wanted back on the internet .. well, seemed there was a patch update for an update and hopefully that is taken care of now ... Then my AVG virus program kept popping up a sign that said I had a virus - NOT! Everytime I ran my virus programs (I have two of them) it said no virus found, but this darn warning kept popping up! So after a couple days of frustration I finally found out that I had to turn off my system restore, re-start my computer, and then turn system restore back on, and that ended the popup. I didn't send out any emails during this time until I had everything taken care of. Then it rained here for 2 days straight, and we have a new gazebo over our hot tub and the top could not take the water buildup (wasn't draining) and it crashed! All the poles holding it were bent - not a pretty site. We called the company and apparently they have had a lot of calls and they have re-constructed a new style top with vents to drain the rain water and they are sending us out one with all the poles also. Then, our front-loader/tractor decided to blow a pump, and we have to get a new one, and that is going to cost us $800!!!!! Oh well, no casino's for me for a while - lol. It's just been a frustrating week.
Blunder:
So good to hear from you! I think of you often and always wonder how you are doing ... just quilting away, eh? So sorry to hear about your neighbor, I know you were close. But glad that you have another one that you can do things with. Hope you come back and post with us more often .. please don't stay away this time. We missed you.
Sharon - Sherry - Karmen:
Come one in here and post you guys - We miss you all!
Slyvia:
Glad to hear Nico is doing better now .. and that you are getting some much needed rest. Sorry you had to quit curves, but sounds like you are doing great on the bike. I have been getting in some walking, not a lot, but that is better than nothing.
Well ... have a great day and don't forget to check last week's posts.
Love, CJ