I am going to track my weight loss journey using OPTIFAST here.
I started Friday, April 4th. My starting weight is 265lbs, 5'3.5. Way more weight than what works on my frame. My goal is to get under 160lbs.
I will be going to Wednesday afternoon groups for weigh in. So while the first weigh in will only be for 5.5 days, I am still hopefully of a decent weight loss.
I am doing
Full Fast
, which for me means 5 shakes a day, no food. 800 calories total. At least 64 oz of additional fluid but no more than 128 oz, half at least has to be just water. The other half can be made up of water, any diet (zero calorie)
and
caffeine free drink, and up to two 8oz diet (zero calorie) caffeinated drinks such as tea, coffee, soda. No energy drinks. No alcohol. I also have an allowance of up to 50 calories a day for extras such as sugar free gum/mints etc.
I want to track my weight loss and hopefully *see* the improvements.
I am really hopeful - Day 3 and so far I feel great. If I get the urge to *chew* I found that chewing a piece of sugar free gum for a few minutes gets me through my craving.
So so excited to get to Wednesday to have my first weigh in. I am avoiding the scale at home for now otherwise I am going to want to weigh myself daily!
I am going to track my progress, any rough patches etc so hopefully it will help someone else wanting to do Optifast.
Here are my before pictures - I forgot to take pictures right as I was starting the program but here are a few of me while at my current weight (give or take a few pounds obviously). As you can see...I have been "settled" at this weight for a while :(
My wedding - May 2011
My friends wedding in June 2012 (I was Matron of honor) (cropped out my friend)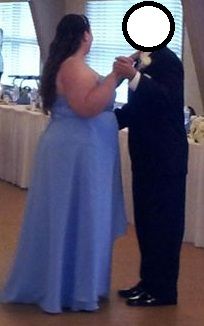 Me on St Patrick's day this year at work (cropped out my coworkers)