I won't be changing my ticker on my blog or my CW in my profile here until tomorrow because Sunday is my official weigh in day. However, today is my co-worker's 30th birthday party and I really wanted to kick the 240's to the curb by then! Well, I got on the scale this morning and saw the following...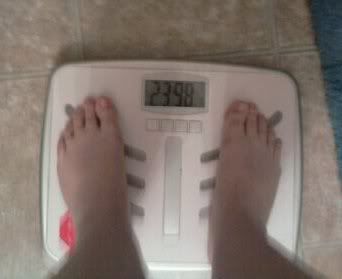 WOOT!!!! 239.8! (Pardon the fuzzy quality of the pic. I took it with my cell phone.) But at 239.8, that means I have lost 25.8 pounds!!!!
I will be able to update my stats tomorrow but just wanted to share the happy moment with everyone!
Hooray!!!!!!!!
Here are some progress pics! These can also be found on my Weight Loss Pics page of my blog.
This was my starting pic, taken while my husband and I were on our honeymoon at Disneyworld at the end of June 2010. I weighed 270 in this pic.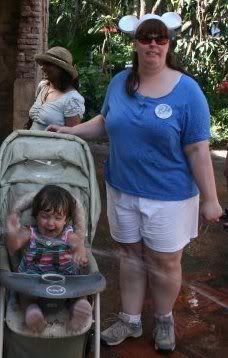 And this was taken last night after my friend's 30th birthday party. I am down 25.8 pounds in this pic!