I have been thinking about making a progress thread for awhile but I didn't have courage to post the dreaded "before" pictures. I am starting to see some progress in my latest pictures so it feels like the right time to post a thread. My journey is divided into two periods. I have always been heavy, even as a child. My weight was at it's highest after having my son in 2002. It stayed high until 2006 when I managed to lose close to 40 pounds. I maintained around 200 for a couple years. This past year my weight crawled back up and I was 222 pounds when I bought my new scale in November 2009. This is when I decided to become serious about my weight. The decision was made after being diagnosed with type 2 diabetes and learning I could not have back surgery for my damaged back. My surgeon told me my best chance at a more manageable pain level was to lose weight. I have been losing ever since and I don't plan to ever go back to my higher weight.
My plan is basically counting calories (1300 - 1600 range) and trying to exercise when my pain is not too severe. I am also more active overall than I was in the past. Here are my pictures:
My heaviest weight in 2002. I was about 245 - 250 pounds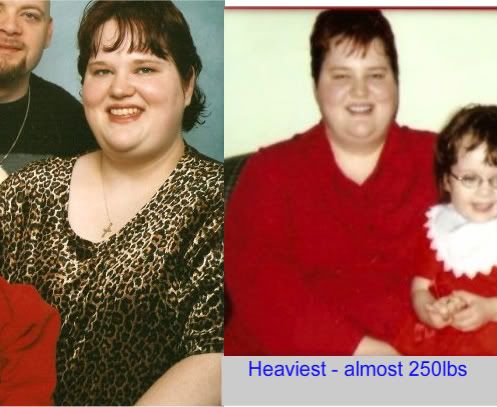 After losing the first 40 pounds in 2006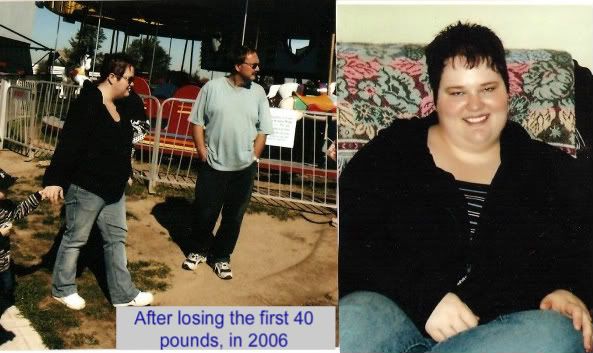 I was 222 in November. This was just before my second attempt at weight loss: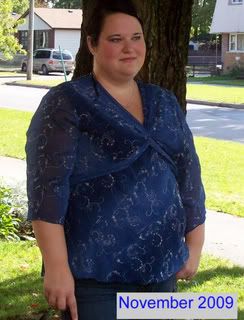 Beginning of March. I had lost around 30 pounds. I found a pair of pants I wore at my heaviest weight.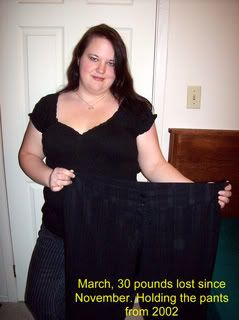 45 pounds lost since November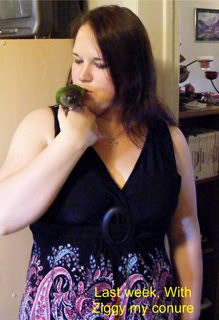 46.5 pounds lost
I was about 160 here. This would be 62 pounds lost since November, and 90 pounds since my heaviest
102 pounds lost total!!
Here is my latest picture. I am 148 which makes 74 pounds lost since November. I am only 3 pounds short of my original goal! I have lost 102 pounds since my heaviest weight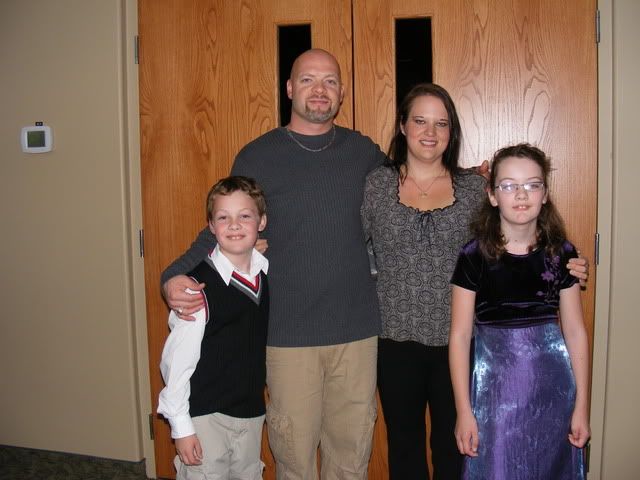 UPDATE:
My at my original goal of 145! Only 10 more pound to lose, I'm not rushing though
.