Yep that is what I am doing and it must be working. I went out with a friend to look for baby shower decorations for a shower she is throwing.  We never go anywhere because we are both so busy, but when we do FOOD is always involved.  Depending on what part of the country you are in you might know about Krispy Kreme.  When the neon sign is blinking red, you know they are cooking fresh doughnuts.  Warm fresh, melt in your mouth glazed doughnuts.  Yes, they are my weakness and I have to avoid that part of town because it is not often I can restrain myself if I drive by and the sign is blinking.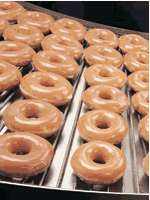 But as I have payed to loose weight(something other people can do for free), like a sucker…lol.  I was good, I did not even come close to caving and I even had the points to eat one.  Problem is if I put that little bite of heaven in my mouth, I would have had to turn around and go back to buy my own dozen.  Yay for me!!!
Well anyway, I did not exercise, I know I know.  My morning was spent in my A&P professors office looking over previous tests to prepare for my final on Thursday.  Then I came home and realized that I had not finished my Chemistry homework.  He is giving us until Friday to have it done but I don't really understand it.  So I did nothing on the one sunny day we are going to have this week.  I am impossible I know,  there has to be a personal trainer somewhere out there who would take pity on a poor fat girl.  I just need someone with authority to yell at me,lol.  I would thrive in a boot camp type situation, well as long as they were not too mean, because I would tell them where to stuff it if I got to mad, lol.  So bad exercise day but good food day.  No cokes and I stayed on points today, plus I have drank enough water to fill at least one camel hump.
At home everything is good.  The kids are a little whiny but that comes from being stuck in the house for this many days in a row.  Rain is a mother's #1 enemy, well that and the TV.  My mother started letting my kids watch more cartoons while I am at work, and you would not believe all the things Ethan is now putting on his "Mommy must buy list".  He is the talkative one, the loud one, the helpful one, and the bossy one; my husband says he is just like me,lol.  This morning with 5 leftover pancakes sitting on the stove (because #1 I don't know how to cook less & 2 because I was good this morning and did not eat even one) my Ethan looks at my mother after I left for school and says, "Gwanny, I'm hungry, mommy didn't give me any breakfast". No typo, yes he calls her Gwanny…lol.  You know I am sure in his mind I starve him, but I think he is the sneakiest child I have, and he will twist and down right lie to get something he wants.  I hope it does not get worse, but if this early is a sign of bad things I am screwed.  Okay I WILL exercise, I WILL, I WILL.
breasy, It does sound silly to look forward to a star, lol.  But I have it in my head that I can get more when I start to exercise and that is pushing me in some small way.  As a matter of fact I am off to add my one for food when I finish this blog, so we can just be silly together.
Eileen, I am glad your daughter has done so well, Thank you for the kind words.  Matthew was 9 weeks early and 3'1oz.  He had a harder time breathing but it turned out okay.  If I had to Diagnose Matthew, I would say he is Autistic, but he is getting better and people do not generally believe Autism can be recovered from.  So Autistic or not, that is the best way to describe him and what we live with every day.
Someone recommended your site to me about a month ago but I did not think I would commit to it so I did not join then.  I have started a plan that I think will work and it gives me a way to pat myself on the back.  It was a great idea and I am glad you came up with it.  I am not real good with new web sites and stuff but I will try it and maybe I wont mess it up too bad.
Sunnygee, as soon as I have time I am going to make a list, my problem is that I can never remember the name of the person that sings the songs I like.