I actually made it through the holidays without gaining anything.  I only lossed .2 but I did NOT gain so that is great.  I ate out, I ate sweets, I drank Cokes…..it was shameful.  I weighed in today and I was -.2 so I was releved.  I saw something on the boards that made my day.  I was tiring to find a really good workout video and I found out that my on demand from Comcast has an exercise channel and it has Jillian's video and many more for free.  This is great because I can try it out before I buy one.  I think I need to do something at home, because it is easier to commit to than outdoor exercises.  Between the rain and the cold I am known for bailing out on it.
I joined two new challenges and I am going to work on them. One is the #5 challenge.  This is great for me because I will get a pat on the back from everyone for losing what seems to be a insignificant amount usually.  I think it will really motivate me to set mini goals.  The other one is the 2009 New years goals challenge.  I set some goals and I am going to post them here and mark them off as I hit them.  I did a new before pic for this challenge and it will give me something to focus on.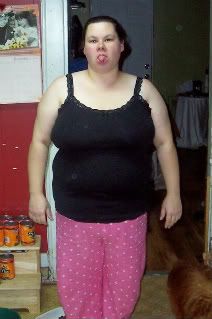 I hate pictures of me.
Anyway my goals are pretty big but manageable if I just make myself be faithful.
WEIGHT (SW)240….GOAL 150…..#90 LOSS
SIZE 22……..GOAL 10
MONEY…LOL…IN DEBT……..GOAL…..DEBT FREE(EXCEPT MORTGAGE)
NUTRITION…..STAY WITHIN MY WW POINTS EVERY DAY
ORGANIZATION…..THROW OUT THE OLD, AND DON'T BUY MORE, AND IT WOULD BE NICE TO PLAN MEALS, EXERCISE, AND GROCERY SHOPPING MORE EFFICIENTLY.
PERSONAL…GET ACCEPTED INTO THE NURSING PROGRAM THIS YEAR AND …BLOG, BLOG,AND BLOG SOME MORE IT KEEPS ME IN CHECK EVEN IF NO ONE READS IT.
WATER…..STOP DRINKING COKE ALL TOGETHER AND DRINK AT LEAST 60 OZ OF WATER A DAY
EXERCISE…JUST DO IT….AT LEAST 5 DAYS A WEEK.