I want to be the "Hot Girl"…
My journey to not be invisible and overlooked anymore! And as big as I am (was) I shouldn't be invisible…
Posted grneyedmustang on May 30th, 2013 | Filed under liposuction | Comment now »
So I'm going on week four post surgery, and I'm still a bit swollen, but I notice every day that my midsection gets a bit smaller. This past weekend, I felt like I could really tell that I'm smaller now (plus the scale rewarded me with the number 241, which I haven't seen in over a year) – so I took some pictures. A few of them aren't the greatest pictures, but in the pictures I can tell that the kangaroo pouch is disappearing and I have something that now resembles a waist: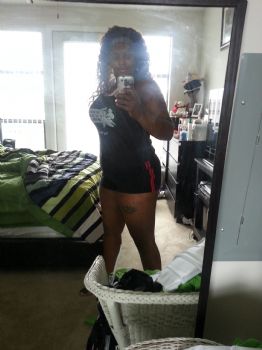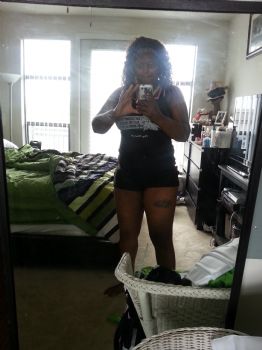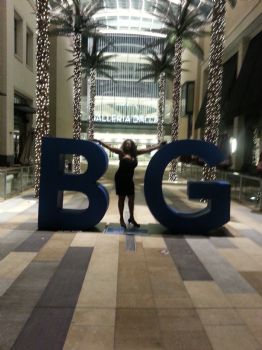 I'm still trying to get back into a "regular" routine, some days I'm good to go, other days I'm tired and struggling. Today is a good day. 🙂
I've decided in the month of June, I'm going to try and stick to mostly lean meats and veggies, very few carbs and clean eating. And of course, trying to stay away from the alcohol. I was doing this right before I had surgery and I think it worked well.
Stay tuned 🙂
All this running seems to be paying off occasionally – but dammit the scale is being a very mean (shut yo mouf)!!!
About a week ago my neighborhood had an event called "kill the hill" in which you run in the neighborhood and pick a set point. I chose the 4 mile course…I could have tried the 5 but I didn't know how I was going to fare.
I ran my 4 miles in 41 minutes…about a 10:15 pace! This is with TWO killer hills involved.
I'm so happy – I haven't run that kind of pace since COLLEGE!!!
I am supposed to be running a 10k next month and I'm actually kind of excited since I guess I'm kicking a little ass while running!!! But there is some bittersweet news with the 10k…
I was approved for my surgery (I'm having Lipo) –  so my surgery has been scheduled for May 6. My post op instructions state that you can start working out 7 days after, but you should still take it easy. I'm going to ask the doctor if i can still run the 10k, during my preop appointment tomorrow.
If I could get the scale to be nice to me…everything would be GREAT….
So the end of the year was bittersweet for me – there were some good things that happened at year end, and some not so good things that happened. We'll start with the good.
So my "friend" that came to visit me wanted us to run a 5k together. I wanted redemption/vengeance for my miserable 5k that I ran in November, so I agreed. Well, I got my vengeance for multiple reasons:
I got to take a couple of cute pictures! The non professional pics are below; I'll post the professional pictures once I pay for them.
I beat THE HELL out of my previous 5k time. I believe that I finished in 35 minutes – which is an eleven minute and some change mile.
I now know that cold weather is not an excuse to not run. It was 28 degrees the morning of, and I DIDN'T DIE.
So the bad:
I don't know my exact time 🙁 My chip timer didn't register. I had on my heart rate monitor so I have a good idea of what time I ran – but as soon as I stopped running someone came over and chatted with me about running, and I didn't turn my heart rate monitor off until it was too late.
The rest of my "friend's" (and I use that term loosely) visit turned out to be a big bucket of fail. I don't know what happened between when we met and the second trip, but it was quite obvious that he wasn't really interested in me "that way" anymore. To add insult to injury – he also made it pretty obvious that he had a crush on my friend/college roommate. He went up to her as soon as the clock struck 2013 on New Years – took a picture – and posted it to facebook. He never took a picture with me. Who does that? Not to mention that the more I talked to him, the more I'm convinced that he's a douchebag asshole.
Oh well, que sera sera. Back to the drawing board. And here's to 2013!
Posted grneyedmustang on November 24th, 2012 | Filed under running | Comment now »
So last weekend, I ran my third race. There were MANY lessons learned behind this race. I'm trying to laugh and shake it off because I didn't do as well as I should have.
So now, please have a laugh at my expense.
Issue number 1 – The glow run was a good idea for a "fun run" but I tried to make it a serious run. Running with a lot of glowy flair is fun if you're not taking it seriously. My glowy flair kept getting tangled up with my mp3 player, was in my way, and generally pissed me off. By the end of the race I was done with all my glow sticks, necklaces, earrings, whatever. LOL.
Issue number two – I'm tall, and when I order tee shirts, I generally order mens shirts because women's shirts usually aren't long enough and don't cover my main problem area – my tummy. Well, against my better judgement, I ordered the women's shirt anyway (I like the way the shirt was cut) and decided I was going to try and be "cute" in it. One of my friends saw one of my pre race pictures and said my tee shirt looked like a sports bra because it was so tight and short. Ha Ha Ha! Which brings me to issue number three…
Issue number three – So since my shirt was an extra medium, I decided to wear a girdle because I wanted to be cute in my race pictures. Don't ask me what crack I was smoking, thinking that it would be a good idea to run 3.1 miles in a girdle. Vanity definitely got a hold of my brain before my race. Which brings me to issue 4…
Issue number four – I decided to buy a brand new pair of cute pants for the race. Mind you, I've never worn these pants and don't know how they'll behave while I'm running. Also keep in mind I'm wearing these spandex running pants with a girdle. Do you see where this is headed?
Issue number five – New lycra running pants + Girdle + 3.1 mile run = BAD BUSINESS. Nuff said. I spent the entire 3.1 miles pulling up my pants because I didn't want to be running a race ala Jackie Christie style (see reference below).
Not to mention that since this was a run geared toward families, I spent part of the time battling strollers and children. So I spent the entire race, miserable, uncomfortable, pulling up my pants, fighting my psyche, along with dodging strollers and children. UGGGGGGGH.
And add to this that I was training, but I'm going to be brutally honest, I was half ass training. Yeah, I said it. The weekend before my race I was entertaining out of town friends, and the weekend before that I was drunken gallivating on Bourbon street in New Orleans.
My time wasn't horrible, but it wasn't my best. 13 minute mile.
Not to mention I took the worst picture I've ever taken in my entire life. I'm so ashamed of the picture, I'm going to post it here so I have a reminder of what not to do ever again. Not to mention a reminder to myself of why I need to focus on diet and exercise – that damned belly of mine.
The good news is – I completed the race – and I learned a few lessons with it.
So there may be a chance for redemption really soon. I am dating a guy from back home and he's coming to visit me for New Years (yaaaaaay meee!!!!). He is also into living a healthy life and trying to get it together, so he suggested that we run a race while he's visiting in Dallas. I suggested the Superman 5k, which is a race with a superhero theme.
I won't be running it in a wonder woman costume or a girdle.
Posted grneyedmustang on September 15th, 2012 | Filed under fear, running | Comment now »
So now that the weather here in Dallas is feeling absolutely fabulous…I've gotten back into running. While on my 5 mile run today, I made a realization.
So back this train up a little bit…
My first race that I ran after I started running was a 10k (yeah I do it big when I make up my mind to do something, usually)! I actually did pretty well considering it was my first race and all – and the competitive bitch in me was absolutely thrilled that my timing was better than my friends who ran the same race.
After running that race, I decided that I would run at least one race per year while I am physically able to do so.
So last year's race was a 5k here in Dallas. My time improved a bit, but not as much as I hoped it would.
I've signed up for a race this year – the Dallas Glow Run 5k. Kinda like the rave of running. I'm absolutely thrilled to run this race. http://www.glowrun5k.com/dallas.php
Anyway. Back to this morning's run. So I've been wondering why I haven't taken on another 10k. I can do it right?
I realized this morning that I am SCARED.
But if I'm running 5 miles on a regular basis, what's another mile added onto that???!?!?!?!? I mean, a 10k is 6.2 miles, right????
I believe a good part of exercise willpower is psychological – that oftentimes it's a mental mind f*** (or lack thereof if you can overcome your exercise obstacles). Now dieting willpower is a totally different story, but I digress. We're not talking about "dieting willpower" and my belief that there are physiological issues that cause people to "lack willpower" when it comes to dieting.
So I need to fight this mental obstacle which is hindering me from taking on another 10k.
My fear stems from:
I'm scared that I'll do worse than I did the first time I ran the 10k
Scared that I can't do it (not rational! I run 5 miles on Saturdays and Sundays NOW)
I'm scared that the first 10k was a fluke
I'm scared that I'm a fraud as a runner – especially because I am a "big girl" and I get the "side eye" from people a lot of times when I tell them that I'm a runner. Maybe I'll make these people, my nonbelievers, out to be right, if I attempt another 10k.
UGH…
My ultimate goal is to run a half marathon (i don't know when because I'm definitely not ready now) – because I'm only half crazy…
But I have to get over this "fear" that I have that I'm not a "real" runner first.
I absolutely hate the word "haters", but in this case, I guess I need to let my "haters" be my motivators…
Posted grneyedmustang on August 27th, 2012 | Filed under hypothyroidism | Comment now »
It's been a while since I've popped in here and rambled a bit. So here I go!!!
About 5 weeks ago, I was diagnosed hypothyroid. I've had a few "why me" moments, and a relief moment – I've been having issues with certain things off and on for the last two or three years, so hypothyroidism will help explain the "why" behind some of my issues (depression, hair loss, hoarse voice, etc etc).
My doctor prescribed 50 mcg of levothyroxine about 5 weeks ago. I will say that my energy levels have improved tremendously since being prescribed the medication. I really hope it will kick in and help with my hair loss as well. I'd love to have the feeling of leaving the beauty shop with a fresh new 'do again – I miss that.
My mom dropped into town 11 days ago, which has thrown a major kink in my diet plans. I love my mom dearly, but her in my small 1 bedroom apartment for the last 11 days has definitely tried my patience. She did leave today, so I should be able to get back on plan and back into the swing of things. In a few weeks, I'll step on the scale and see what happens.
Feeling very positive today – wish I could feel like this every day!!! Go me!!!
So today, I began reading this book that was suggested by another 3fc member:
http://www.amazon.com/gp/product/0805082603/ref=oh_o00_s00_i00_details
If you struggle with weight related issues, depression, and alcohol, I highly recommend this book – especially if you (like me) are a perfectionist.
I just started reading it this morning, and I'm about halfway done in a matter of hours. It's given me quite a bit of insight into my behaviors, and it also lets me know I'm not the only one out there in this pattern of behavior.
I'm off to do my Sunday Shopping for veggies and stuff.
Also, I'm now down to 239! Woooo hoooo!!!!!
So I've been taking a new class at the gym, reincorporated strength training into my routine, and started calorie counting at the beginning of February. Something I've done is working (I have the feeling it's counting calories) because as of this morning I am down to 241 – a weight I have not seen since the end of 2010!
Super thrilled right now. So thrilled I'm about to go for a run at my favorite trail. 😀
So my strategy has been:
Eating less than 1800 calories Monday through Friday
Having a cheat "day" on Saturday
Not counting calories on the weekend (but still trying to eat healthy on Sunday)
Still maintaining a SBD way of eating during the week, with the exception of my cheat day
So let me explain my cheat day – I do believe that allowing myself to eat "whatever" can lead to a slippery slope, if it's a carb laden meal. So with my "cheat day" – I usually eat fairly on plan for breakfast and lunch, but eat what I want for dinner and that's it. With this meal, I don't usually eat dessert. I'm really afraid of the cravings kicking in if I just go overboard with the cheat meal, but I do think the cheat meal itself keeps my metabolism guessing.
I hope the weight loss continues! If it does I might get to see 200 after all. 🙂
Posted grneyedmustang on February 9th, 2012 | Filed under dieting | 1 Comment »
So I've been feeling lately that my diet needs a swift kick in the rear to get things moving again. I was thinking about Weight Watchers (again!) but Weight Watchers costs $$$ and I am trying to work on eliminating debt this year. So what's the next best thing? Calorie counting!
I've been calorie counting now for the last four days, and it's been a lot simpler than I thought it would be. I ordered a scale from amazon to see what the correct portion of food looks like. I think it's because SB was pretty intense in terms of planning food, so this is just taking it a step further. Also, I am only 4 days in. Talk to me in about a month or two and we'll see how I feel about counting calories! And even though I am counting calories, I am still following a SB based plan – so no white rice, white potatoes, refined sugar, refined flour, etc. etc.
I did have a major "bad" day Superbowl Sunday. I don't want to rehash what I ate but it was BAD. Not to mention what I drank. I will say that there are no more "holidays" until my birthday (well Easter, but I'm usually pretty well behaved there) so I should not have any excuses for any major derailments. I have not stepped on the scale – and I will not step on the scale until next weekend. I'll use that as my "weight" to see if I'm making progress, and if the calorie counting is working.
So I have a confession…off and on for the last 3 years I've been depressed off and on about my dating life.
When I was younger, my parents stressed how much I needed to get and education (I can hear my mom now…when I was 15…keep your mind on them books and off them boys!) – and as I got older, focus on my career and the "rest will fall into place".
So here it is, I am "kicking 35 in the throat" and I have no prospects. No kids, no boyfriend, no semblance of a boyfriend, nothing. I don't even have a guy I could call a booty partner! 🙂 (Not that that's what I am looking for). So the catch 22 – I have educated and careered myself right out of a man, because now most of the guys want a "project"/"fixer upper" – or the good guys are already married.
All my life, I've set goals for myself, and for the most part, I've achieved the goals that I've set – which the exception of getting below 200 pounds, but that one's a work in progress.
So the one goal that I've set – find a good man – I have not been able to achieve, and it's driving me crazy. Literally.
I could probably compete with Dr. Phil, Oprah, and Cosmo with the library of books I have on dating and relationships. I have asked many of my friends to give me any feedback (no matter how brutal) on my dating behaviors.
I'm still coming up short.
The list of things that are "wrong" with me as my friends have given it to me:
Too tall – nothing I can do about this one
Intimidating (but I'm the nicest person I know! 🙂 )
Guys feel "insecure" with me because of my accomplishments
Guys like to feel needed and they don't feel needed with me because I don't "need" anything (but I need love and companionship!)
Not feminine enough – well I'm feminine when it counts. Yes, I have a BIG personality – I have a big laugh, kind of loud from time to time, sarcastic, corny, extroverted, and outspoken. Whoever I end up with is just going to have to love that part of me, because that is a part of me I've worked to develop and I ain't changing it. (backstory here – I used to be really shy and introverted, because I had extremely low self esteem. Over the years I've learned how to "fake it till I make it" – and I still have self esteem issues.) – I will always be "boisterous and outspoken", though.
So my looks and my weight were never mentioned. Either my friends were trying to be extremely delicate regarding my appearance (which I don't think they were) – or those are not my dating issues, which is what I was inclined to think.
So I've realized over time,  this one area of my life is not perfect, I can't control it, and it's making me crazy.
I decided to go to a therapist, and I had my first session today.
For some reason, having someone tell me that it's not "all in my head" and that I wasn't "losing it" is comforting.
My therapist diagnosed me with Adjustment Disorder with secondary depression and anxiety. I don't know why adjustment disorder never occurred to me – I've had a lot of upheaval in my life in the last 2 years – I've moved 800 miles away from home and didn't have any friends here, changed jobs 3 times, had a car accident, a medical "scare" – is that enough for ya!?
My next session is next week. I have the feeling I may eventually end up on medication, because my depression seems to always be "lurking" even when I'm not fully engaged in a depressive mood.
Working out does help alleviate it, but it has also made me realize that I've been in the gym pretty regularly because I'm trying to escape my feelings.
More to come – off to make dinner for the evening.
Posted grneyedmustang on January 10th, 2012 | Filed under dieting | Comment now »
I know there are a lot of people who don't believe in New Year's resolutions, but I do. Most of my life, I've set goals to make sure I am always working towards something. So here are my New Year's "Goals" (aka resolutions!)
Cut down on the alcohol – alcohol is my biggest downfall. I am really trying to cut it out, especially on the weekends, because that's where I get into trouble.
Start Meatless Mondays – so far, this has been a HIT! The recipe for lentil tacos was my first "meatless monday"  (http://allrecipes.com/recipe/tasty-lentil-tacos/detail.aspx) and I must say I didn't miss the meat at all. Not sure what next week's Meatless Monday will be – right now I'm thinking some sort of veggie pasta.
Run another race (this will be number 3!)
Try some new classes at the gym. I love Spin, but I think it's time to change it up a bit. Tonight, I went to an abs/weights/step aerobic class, and I enjoyed it! I think I'm going to keep doing that one on Tuesdays.
Get below 240 pounds (first)
Maybe start Weight Watchers
Get below 200 pounds
Non weight related – pay off some credit cards
Non weight related – keep my apartment cleaner
Take a vacation! I hardly went anywhere last year except to Philadelphia. This year, I'm going to try and take two or three trips, even if it's just down to Houston for a weekend.
2011 was kind of a rough year physically and emotionally for me, so here's to 2012!
Posted grneyedmustang on November 6th, 2011 | Filed under dieting | 2 Comments »
Well, my 5k is done. Here are my results:
– Made my initial goal of less than 40 minutes
– Did not make my stretch goal
– Beat last year's 10K miles per minute average (10k I averaged a 13.38 minute mile. The 5k I averaged a 12.48 minute mile)
All in all, I'm happy with my results. I wished I could have made the 35 minute mark, but I didn't have very long to train for this race. There was a hill at the beginning which was a KILLER. I am proud to say that I made it all the way up the hill without walking! If this course had have been mostly flat – like another part of the same trail I had been training on – I may have also come a little closer to that 35 minute goal.
I am proud of myself today. Race number two has been added to the belt notches 🙂
Here's a pic, more will be posted once I get them.
So I stepped on the scale this morning before my workout. I'm pissed at that bitch. I have been busting my ass at the gym (i've even been doing 2 a days for the past two weeks!) and I HAVEN'T LOST ONE POUND. :'(
What I am about to say is not PC, but I'm having a moment.
So I'm at the gym, and I see these two skinny girls, "playing" at the gym (you know, the people pretending to work out, but they're usually too busy talking or texting instead?), and I start thinking about how life is SO NOT FAIR. I would just like to see some results…and in the meantime, I see people who barely try, and are skinny. Or people who eat shit all day, and in the meantime, I gain weight if I even smell it. Or my favorite – people who look at me and assume that I sit around and eat twinkies all day…but then they see me in the gym or on the tracked and are *shocked* (insert gasp here) that the big girl has endurance too!
*SCREAMS*
Ok, rant over.
So tomorrow, I have the 5k that I've been training for. I'm confident that I will meet my goal (to complete it in less than 35 minutes).
Wish me luck. 🙂
It's been A WHILE since I've written on my blog (8 months almost). It's been a very challenging year for me, both physically and mentally. I was dealing with some health issues earlier this year that really took the wind out of my "healthy living" sails and made me extremely depressed. As a result, I have gained 10 pounds and they are holding on to me for dear life. I'm feeling better now (with the aid of St John's Wort) and am really trying to get back on the wagon.
So, here it is, a year and a few months since I've been in Dallas, and I am on job number three. Yikes. The last job I had turned out to be not so great. There were a few major red flags – namely, a mandatory week off without pay and my boss quitting – which let me know it was time to leave. So here I am, with a new job. I started this one in September, and I must admit, it is great. My boss seems to be a really nice, and fair guy. The work life balance is wonderful (unlike the last gig) – it is very rare to work more than a 40 hour work week. I work from home 100%, which means I can wake up at 7:50 and start working in my PJ's. All in all, life is good 🙂
No news to report on the dating front, except for all the idiots I dated this year have turned out to be major duds.
My lineup of this year has consisted of-
The junk food king (didn't believe in physical exercise, ate excessive amounts of junk, did not like to be outside, and played video games all day. I like a guy to be active. NOT COMPATIBLE)
The 43 year old loser  – a very handsome guy, whom I'm sure has coasted through life on his looks. He barely had a job, no car, no place to live, no checking account – I could go on and on. Not to mention despite him being in shape, his "equipment" did not work. And lastly, very selfish…and I really do believe he may have been homeless for real. WTF? Big bucket of fail all around.
Inconsiderate selfish jackasses numero uno and dos. I like to call them both Laurel and Hardy, Heckle and Jeckle, or GI Joe and Big Bird. GI Joe asked me to crash at my place for a week when he returned from Iraq. He knew I liked him (have known him for years, so if I open up my house to you that has to mean I like you on some kind of level, right????) but did not understand why I was mad at him when he kissed another girl in my face. Numero dos seems to think that he is blameless in any of the problems that happen to him, and had no issue pointing out any of my flaws.
I am now on a dating strike. I am noticing a consistent pattern with these guys, most them were extremely selfish and thoughtless.
In other news, I am running my second race next week. It's only a 5k – because I didn't have much time to train, but it's a race nonetheless. I'm shooting for less than 40 minutes (I'd be thrilled if I could do it in less than 35, but my official training for the race has been minimal, so we shall see)! Wish me luck!
Posted grneyedmustang on March 9th, 2011 | Filed under dieting | 1 Comment »
This new year has started off pretty good, despite all the upheaval in my life.
Upheaval – I left my old job as a consultant. I decided that being a consultant wasn't really conducive to living a healthy lifestyle. It was VERY HARD to maintain healthy eating habits and exercise while on the road. Not to mention the fact that coworkers wanted to go out and drink frequently while on the road. Aside from the fact that consulting just wasn't for me and a few other factors — I decided to look for another job. So here I am, at another job, that doesn't require nearly as much travel.
Because I got the new job, my commute was 52 miles a day in Dallas traffic. I hate commuting with a passion. I feel like it's one of the biggest nonsensical time wasters ever. Once I got the job, I immediately set out to find a new place to live closer to the job. So ergo upheaval number two for the year – moving. I moved last week to a spot in Downtown Dallas which is really nice – I love it.
I am definitely a creature of habit, so all this upheaval has thrown my diet and exercise into a tizzy. I don't know if I've gained any weight (I haven't stepped on the scale since January), but my clothes are not feeling tight. I was also hitting spin class pretty hard before all my upheaval began, and I haven't totally fallen off the wagon, so I'm hoping that I've minimized any damage to my waistline.
So since the end of the year, I've done fairly well. I went to Arkansas and back to Atlanta over the holidays to visit my family and I received a ton of comments on how good I looked. My grandmother even told me that I didn't need to lose any more weight or otherwise I'd be too skinny (I beg to differ on that one). My new 3fc avatar pic was actually taken during my vacation. I love that pic, I think it looks very nice and "modely"…LOL.  I also wonder if my newfound glow has something to do with the relocation to Dallas? I will say that I am a lot happier here in Dallas than I was when I left Atlanta. I was pretty unhappy with things when I left Atlanta. Here, I'm feeling a lot better, I think it has to do with a number of factors, but I'm happier than I've been in a long time. As far as the dating goes, I am dating on a regular basis, but no serious contenders as of yet. There was one who came close, but he really pissed me off right before I moved, and didn't help one iota during the move, so he's been cut from the team.
I had a major NSV yesterday. I've always wanted to shop in White House Black Market, but I felt like I was too big for their clothes. I went in there yesterday with a coworker and fell in LOVE with a shirt. I tried on the shirt and it fit (it was a size XL) – and in fact, it was almost too big! I was talking to the sales associate about the shirt, and she tells me that I look like I could probably wear quite a few items in the store in a size L – that XL's would probably be too big!
This is the shirt in question:
I'm going back to get that shirt on Friday. 🙂
Next stop – Express – I've always wanted to shop there for work clothes, but once again, I think I've been too big.
Posted grneyedmustang on December 17th, 2010 | Filed under dieting | 1 Comment »
Just a quick check in and a status update…
So that extra 6 pounds I was sad about is gone. I attribute the loss to two things – TOM weight gain and my rediscovery of spin class. My last weigh in, I was at 239. Woo hoo!!!
I am happy that the scale is moving back the other direction instead of UP. I have been in the gym more regularly, so I'm sure that's helping. I've made a discovery, though, that I don't like, and I need to figure out how to deal with it….
I'm in the gym more frequently these days (I'm even doing two a days occasionally) because I don't really have a social life!
So what's going to happen when I do make friends and start hanging out more? When the weather turns back warm and I wanna be outside, sitting on the patio, having a martini, and chatting with friends?
Hmmmm…I've got approximately 3.5 months to figure that out. You would think that since I've been on SBD since 2008, I'd have that part figured out by now.
WRONG. (Insert the Price is Right "Fail/Lose" music here – which is one of my favorite sound effects, by the way. In fact, here's a link in case you need a laugh/refresher: http://www.youtube.com/watch?v=1ytCEuuW2_A )
So I'm happy that the scale is moving again, but what's going to happen when I have a life again?
*Sigh*.
Posted grneyedmustang on December 4th, 2010 | Filed under dieting | 1 Comment »
So earlier this week, I decided that I was going to visit my old friend Spin Class. I haven't been to Spin Class in probably a year. I've been thinking about it the past couple of weeks, because I feel it's time to change up my exercise routine. I've actually been a little scared to go, because 1) I'm in a new gym, in a new state, and don't know anyone (familiarity makes me feel comfortable) and 2) I haven't been to Spin in forever! Will I feel like I'm going to die when I try it again?
Well, today I finally made the plunge back into Spin. I had a great time in the class…it was challenging but now physically I feel great. So what's the matter with me?
Well, right before I went to class, I stepped on the scale and got a very UGLY number. 244. OUCH. I don't think I've seen that weight in almost two years.
I'm not going to lie, I'm sitting here very sad. 6 pounds in one month? YIKES. How is that even possible? It is TOM for me so I am HOPING that is what is causing this weight gain.
So I have decided that I really need to focus on getting these last FIFTY plus pounds off.
1- Exercise 1000+ minutes per month (and I'm doing better gymwise, I almost made 1000 last month!)
2 – Eat on plan
3 – Do a 4/3 of "rich" vs "clean" foods. Let me explain this one. I LOVE to cook. I think this is one of the areas I'm struggling with the diet. I haven't been really measuring out unlimited foods, and sometimes, I cook foods with a lot of "ingredients". For example, for dinner, I may have homemade chicken marsala, a side of caesar salad, and SBD mashed potatoes. Each one of those has a LOT of ingredients. I think I am going to scale back and try to eat "clean" 3 or 4 days a week. A "clean" meal would be – for example, broiled fish, steamed asparagus, and salad with vinaigrette dressing. Hopefully that makes sense to the two people that read my blog 🙂
4 – No RESTRICTED FOODS in the house. So far on my "restricted list": Chocolate (I know it's allowed in small quantities on phase II, but I can't have them in the house, because if I have a bad day, I'll binge), Wine, Alcohol, Peanuts (waffling on this one. I love nuts but sometimes they make me "bingey"), Pecans, Flavored Triscuits, Pita Chips.
5 – Try to eat before 9pm. THIS IS A HUGE ISSUE FOR ME. I eat extremely late. I really need to work on this one!
So I'm off to find "dietary inspiration" in some of the reading and weight loss materials I have around the house. I'm trying to do two workouts a day, occasionally, so I'm going to shoot for another workout later today.  I have even toyed with the idea of rejoining weight watchers but I LOATHE counting points.
I have been having one hell of a time staying in the gym on a regular basis. I don't know what's wrong with me! This is how it usually goes: Monday, I don't go…because the start to the work week was tough. Tuesday…I don't go…because I need to catch up on stuff around the house due to the rough Monday I had. Wednesday is usually when I get the steam to go. Thursday is hit or miss. By Friday, I realize that the week has gone by and get my ass to the gym. Saturday is a no brainer. I love working out on Saturday mornings. There is hardly anyone there and I don't feel "time restricted" since I don't have anywhere to be on Saturday. Sundays are hit or miss too. Some Sundays I hit the gym (and I like working out on Sunday too because of the same reasons for Saturday)…but my downfall – Sunday is generally my rest and relaxation day so I don't always make the gym on Sunday.
Since I seem to be having consistency issues with the gym, I figured I'd put together some post-its to help remind me as to why I need to go. Then I decided I'd have it on my blog too…in case I lose the post-its or something. So here goes:
Top ten reasons not to skip the gym:
The more you skip, the more painful and "challenging" (and not in a good way) it will be when you go back. You'll have to indulge in the ben-gay, the more time you spend away from the gym.
Exercise helps depression.
Where else do you get to hear your favorite party tunes and pretend that you're "dancing"?
You feel good after working out.
It helps you stay ahead of the curve – e.g. you won't have to play "weight loss catch up" if you're in the gym. "Weight loss catch up" is that game I unintentionally play after holidays and such, where you have to lose an additional 5 to 10 pounds on top of the 30 more I have to go.
Does the number 200 look good to you? What about 180?
Do the sizes 20w/22w mean anything to you? How about the size "12 wide"?
(Sidebar with #7) Do you want to HAVE to shop on the "big girls" side of the store again?
Don't you like showing off the fact that you can run, do 40 minutes on the elliptical (at a nice pace/resistance too!) despite the fact that you're not a size 6?
Do the words high blood sugar/cholesterol/blood pressure mean anything to you?
Posted grneyedmustang on September 29th, 2010 | Filed under dieting | 1 Comment »
So here I am. Been gone for a while. This has been a hectic summer. Over the last four months, I have:
Run a 10k (good)
Changed jobs (good)
Moved to Texas (good)
Went on a Cruise (good and bad)
traveled a lot for work (good and bad)
So because of all this going on, my eating and exercising has not been the best. I am happy I haven't gained a lot, but I have put on 7 pounds (as of today).
I went back to Phase I. Had the "SBD FLU" for two days…it totally sucked. After those were up, though, I felt a hell of a lot better. I've been in the gym pretty regularly this month. My goal was to hit 800 minutes. If I go today and tomorrow (I am! I am! I tell ya!) then I should make my exercise goal for the month. Next month I am going to shoot for 1000.
Trying to stay motivated!!! I'd really like to get under 200 pounds in the next year.
Posted grneyedmustang on July 6th, 2010 | Filed under dieting | 1 Comment »
I FINISHED MY FIRST RACE ON JULY 4, 2010!!!
I ran the 2010 Peachtree Road Race on July 4. My official finish time was 83 minutes. I had a goal set to complete it in 90 minutes so I am VERY HAPPY that I was under my goal time. I was able to run the first 3 miles without walking so I feel like all that training paid off. And I don't know if this is wrong, but two of my friends also ran in the race this year. I beat both of them 😀
I've been using couch to 5k to train for this race. IT WORKED FOR ME AND CAN WORK FOR YOU. So anyone aspiring to be a runner, if I can do it, you can!
Here's a few photos from the race:
I am SO PROUD OF MYSELF!