————————————————————————————————
Eileen – December 18, 2011 – Sunday
Exercise Today: … 60 minutes hiking
Starting Weight 12/13/11: 299.8     Last Weigh-In: 298.8   Today: 298.2
Change Yesterday: – 0.6   Total Progress: – 1.6
————————————————————————————————
Hubby and I went geocaching again today.  Altogether we only found seven of 'em, but they were all pretty far apart so there was driving time in-between.  This is the first time we've ever really planned out our caching route ahead of time, with a list that we wanted to find, but it was fun.  Most of the ones on our list were easy to get to and not a whole lot of hiking involved… except one.  I ruined a pair of shoes but I got a heckuva workout, that's for sure!
We'd been to this park before for another geocache, but this particular cache was hidden deeper into the forest, off the trail and in an area that's a bit swampy.  We took off into the woods, ready for adventure and soon found ourselves slowed down by the vines – some of them wicked thorny – that blocked our way. Hubby cut them when he could and we made our way around stumps and fallen trees and even an old mattress and box-springs … and then came to the mud.
We tried to walk around it and stay on high ground but we finally came to an area about 15 feet across that we couldn't avoid if we wanted to get this cache.  We did pretty well, stepping on the vegetation when we could, and we made it across … almost.  Well, one of us made it!  LOL, I went to take the last two steps and my shoe *sunk* down into the mud!  I yelped and lunged for the high ground, thought I was gonna lose my shoe altogether!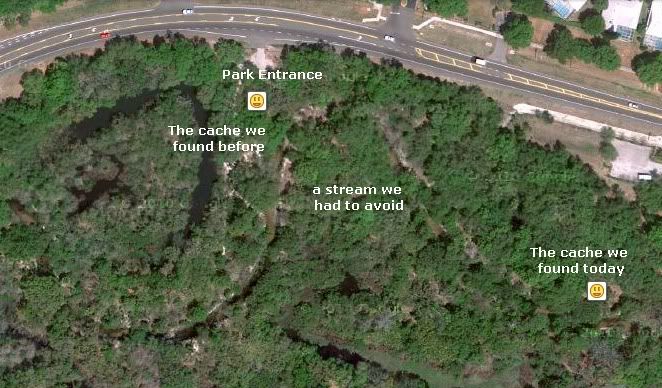 The cache container was hanging in a tree (good thing Hubby was there because I would not have been able to reach it without a ladder)(I hate that), so we signed the log and started heading back.  When we got to the muddy part, Hubby found some branches and bark pieces and laid them down in that area of the mud where I slipped. How sweet is that?!?
Altogether it took almost an hour to bushwhack our way through the woods and then make our way back again.  I was quite winded by the time we got back to the truck.  It was a great workout on a beautiful day!
911