And, I loved every minute of it. It was great to just get away from the everyday mundane super busy and get to somewhat relax. What was served at meals was out of my hands but how I reacted and what I chose was not and so I went with it and logged every bit of it. Sure I could have passed up the brownie and ice cream that was served with the barbecue dinner on Saturday but I didn't. I also didn't sit and fret over the calories and wage a mental battle on it. I went with the flow ate it and moved on.
I received a whole lot of information to the point of information overload but in a good way. Just have to take the time to type up all my notes so I can re-process everything. Besides the hike we took getting to the swimming pool more than made up for those calories I consumed with the brownie and ice cream. It felt good hiking even if I did get a wee bit winded but I held my own and kept up with my three companions. The swimming pool felt absolutely divine and was worth the hike.
I'm down to 304 this morning. Getting closer to being under 300. Planned out my meals last nigh for today other than dinner but still have a crapload of calories leftover for it so I'm not worried. I did over an hour of Wii fit plus last night to burn off over 300 calories. It was some goal I had set up on it to burn off that many some time ago and just never took it back off. Figured now was as good as time as any to do it again.
Other plans for this week:
Begin Biggest Loser on the Wii tonight
Continue Planning/Logging meals
Wii Fit every day even if it's just the fitness test
Search for simple, quick and easy recipes to do once school starts back
Oh, I have found me a mini goal of sorts. These: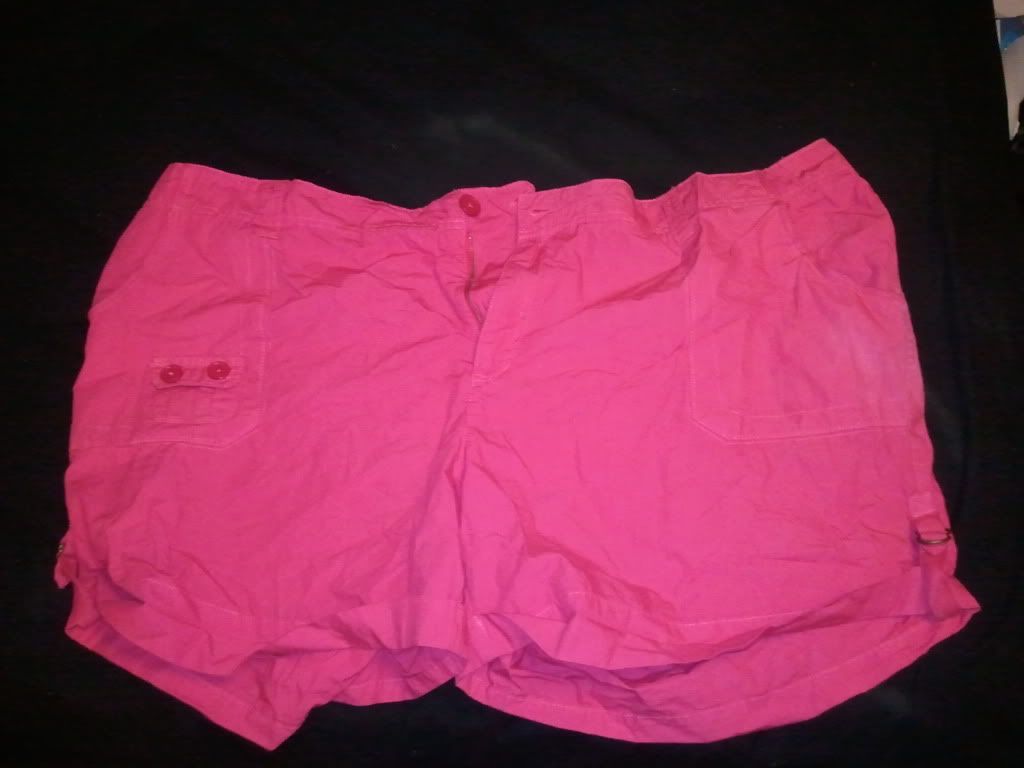 They are a pair of Size 24 shorts I bought Summer 2010 and could wear because they wouldn't fit over my fat thighs. Figured I might as well try and get some use out of them before I shrink down too small. 😀 As hot as it's been around here, I'm sure we're going to have hot weather until Christmas so it should be doable.