I just made this recipe and it's pretty darn good! It includes 7 superfoods in it, which is wicked good for you.
You can add chicken to it, to make it a meal. I didn't use fresh herbs - I used the dried package kind but it's still good.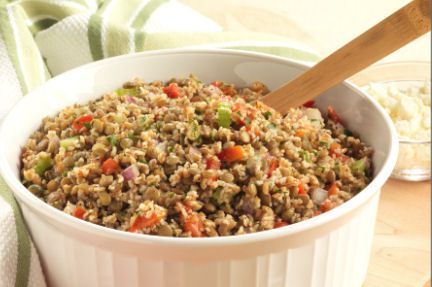 Herbed Bulgur and Lentil Salad
1 cup lentils, preferably green or yellow
2 cup water
1 cup bulgur
1/4 cup olive oil
1/4 cup lemon juice
2 cloves garlic, crushed
1 tsp salt
2 Tbsp mint, chopped
2-3 Tbsp dill, chopped
black pepper, to taste
1/4 cup parsley, chopped
1/3 cup red onion, finely chopped
1 red bell pepper, diced
1 stalk celery, finely chopped
Wash lentils. Place in a medium-sized saucepan, cover with water, and bring just to the boiling point. Turn the heat down, partially cover, and allow to simmer without stirring for 20 minutes or until tender but not mushy. Drain well, and then transfer to a large bowl.
(Note: If using yellow, green or pink lentils, adjust cooking time to 15 minutes.)
While the lentils are cooking, place the bulgur in a small bowl. Add boiling water, cover with a plate, and let stand 10 to 15 minutes.
Add everything to the lentils. Mix gently but thoroughly. Cover tightly and refrigerate. The longer it sits in the fridge, the better it tastes, so make a big batch and eat it throughout the week!
Number of Servings: 8
Nutritional Info
Per 1 cup serving:
Calories: 159.2
Total Fat: 7.1 g
Cholesterol: 0.0 mg
Sodium: 300.4 mg
Total Carbs: 21.0 g
Dietary Fiber: 5.7 g
Protein: 4.8 g