-
Men's Corner
(
http://www.3fatchicks.com/forum/mens-corner-237/
)
| | |
| --- | --- |
| Bluejaybythesea | 03-08-2014 01:54 PM |
---
Hello guys! (Progress Pic #1)

Hello.
Been a while since I've posted here. To be honest I had simply gotten to a point where I was happy and felt like I had hit a stride which no longer required assistance.
However over the last month and a half/two months it seems I have gained a little weight. My absolute lowest was 181 and I am at 191 right now. Not a huge amount but a warning sign.
Life has kinda sucked over the last two months. I moved, lost my job, and am finding zero time to go to the gym. Not to mention now that I actually have time to go to the gym I got a very bad ingrown toe nail which has been stopping me.
So the new goal is to reach 170 LBS and get back to the gym.
Now that I live with my Best Friend changing my eating habits is gonna be very hard. He refuses to eat healthier and I'm gonna have to make some sacrifices in order to get my *** in shape again. Took a progress pic today... Let's get this ball rolling again!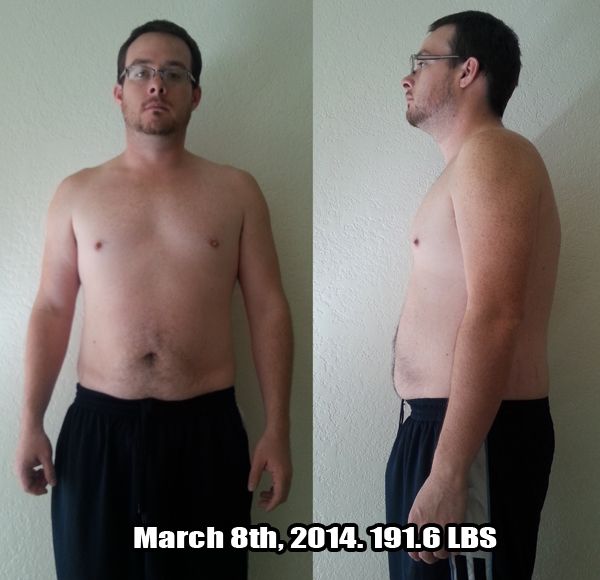 | | |
| --- | --- |
| BillBlueEyes | 03-08-2014 04:06 PM |
---
Yay for a new perspective and a new start. Ouch for the negatives with the job and toe.

Look forward to hearing your progress.

Do you have an eating plan and an exercise plan that you'll be using?
| | |
| --- | --- |
| vealcalf2000 | 03-08-2014 04:29 PM |
---
Life is so stressful sometimes. Kudos to you for realizing the numbers were creeping up again. Good luck with everything. I'm sure it'll all fall in place including the weight loss!
| | |
| --- | --- |
| Bluejaybythesea | 03-08-2014 07:09 PM |
---
plan on going about it the same as i did before. Paying mild attention to intake and portion sizing and as far as the gym when I can finally go back regularly I am going to find a fun plan on bodybuilding.com or something and just stick with it. Might use Kris Gethin's 12 week routine again it was a lot of fun... Maybe you can maybe you can't see it above but I put on a bit of muscle from before... Sure it could work again.
| | |
| --- | --- |
| amandie | 03-11-2014 10:57 AM |
---
Heyyyyy, I was wondering where ya went!! Sorry to hear about all the sucky stuff. :(

Welcome back!! :hug:
---
Come on Bluejay! We started this together (almost). Let's finish it together!
| | |
| --- | --- |
| 50PoundsTooHeavy | 04-06-2014 08:06 PM |
---
Almost a month now since your initial post. How's it coming?
All times are GMT -4. The time now is

04:19 PM

.
Powered by vBulletin® Version 3.6.7
Copyright ©2000 - 2015, Jelsoft Enterprises Ltd.
Search Engine Optimization by vBSEO 3.3.2