-
Men's Corner
(
http://www.3fatchicks.com/forum/mens-corner-237/
)
| | |
| --- | --- |
| Bluejaybythesea | 03-08-2014 02:54 PM |
---
Hello guys! (Progress Pic #1)

Hello.
Been a while since I've posted here. To be honest I had simply gotten to a point where I was happy and felt like I had hit a stride which no longer required assistance.
However over the last month and a half/two months it seems I have gained a little weight. My absolute lowest was 181 and I am at 191 right now. Not a huge amount but a warning sign.
Life has kinda sucked over the last two months. I moved, lost my job, and am finding zero time to go to the gym. Not to mention now that I actually have time to go to the gym I got a very bad ingrown toe nail which has been stopping me.
So the new goal is to reach 170 LBS and get back to the gym.
Now that I live with my Best Friend changing my eating habits is gonna be very hard. He refuses to eat healthier and I'm gonna have to make some sacrifices in order to get my *** in shape again. Took a progress pic today... Let's get this ball rolling again!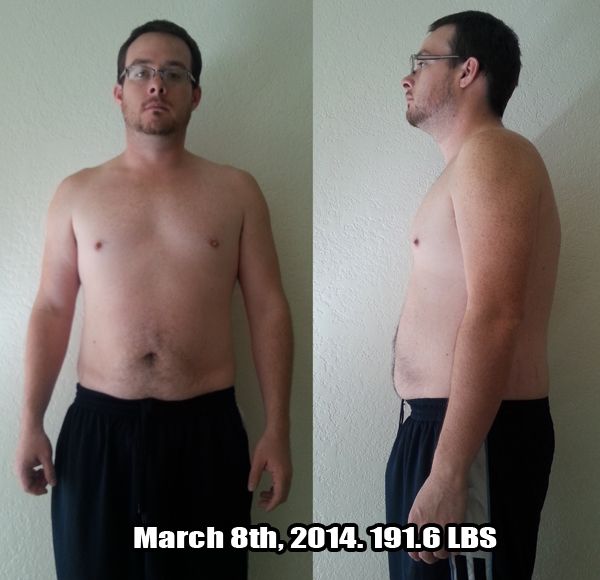 | | |
| --- | --- |
| BillBlueEyes | 03-08-2014 05:06 PM |
---
Yay for a new perspective and a new start. Ouch for the negatives with the job and toe.

Look forward to hearing your progress.

Do you have an eating plan and an exercise plan that you'll be using?
| | |
| --- | --- |
| vealcalf2000 | 03-08-2014 05:29 PM |
---
Life is so stressful sometimes. Kudos to you for realizing the numbers were creeping up again. Good luck with everything. I'm sure it'll all fall in place including the weight loss!
| | |
| --- | --- |
| Bluejaybythesea | 03-08-2014 08:09 PM |
---
plan on going about it the same as i did before. Paying mild attention to intake and portion sizing and as far as the gym when I can finally go back regularly I am going to find a fun plan on bodybuilding.com or something and just stick with it. Might use Kris Gethin's 12 week routine again it was a lot of fun... Maybe you can maybe you can't see it above but I put on a bit of muscle from before... Sure it could work again.
| | |
| --- | --- |
| amandie | 03-11-2014 11:57 AM |
---
Heyyyyy, I was wondering where ya went!! Sorry to hear about all the sucky stuff. :(

Welcome back!! :hug:
---
Come on Bluejay! We started this together (almost). Let's finish it together!
| | |
| --- | --- |
| 50PoundsTooHeavy | 04-06-2014 09:06 PM |
---
Almost a month now since your initial post. How's it coming?
| | |
| --- | --- |
| Bluejaybythesea | 08-17-2015 01:15 AM |
---
Hey guys. So the fall off the wagon is a long one, lol. Well I'm sure (have notweiged myself) I am around 250 now maybe a little less. So much happened: a bad break up, complications with my best friends cancer (he's OK right now) etc etc etc so I have taken quite a few steps backwards. Good news is I am a week away from quitting my job and traveling the USA for a year.

What does this mean for my weight loss? Well what I have determined is the number one reason for my gain is stress will be gone.. Since I posted the before I have been working two jobs non stop, the aforementioned life stuff happened, its been one **** of a rollercoaster and soon things are gonna be rebooting. A lot of planning has gone into this and I can't wait. With most of the most stressful things being eliminated I'm hoping I'll ger more time to focus on making those good decisions I had been making before.

I am trying to devise a plan for this. Truth is we have a very very fixed income (my best friend d and I, who is going with me... As you can imagine this journey is going to be just as important to him as it is to me but for wholely different reasons) so bad food is actually gonna be hard to get. Even cheap fast food is a no no because all our food has to be cheap and able to stretch over a long period of time. I'm more concerned about fitness. God I miss the gym. You guys would be proud at the amount of muscle I actually gained. The break I took from the gym grew me a little bit its nice.

I digress... I am going to try and keep uip with you guys from this point forward. I hve had a lot going on and like before it is time for me to concentrate on me again.

Any who I'll get some progress pics up and do this the proper way. Gonna have to measure weight by waist size tho, no scale on the road ;)... Looking forward to interacting with u guys again!!
All times are GMT -4. The time now is

03:23 PM

.
Powered by vBulletin® Version 3.6.7
Copyright ©2000 - 2016, Jelsoft Enterprises Ltd.
Search Engine Optimization by vBSEO 3.3.2