There comes a point in time when your denial about your weight and your image snaps and you realize that, one, according to your BMI you're in the higher end of obesity, two, you're 20 years old and you weigh 225lb and you're not happy about it, and three, the skinny person inside of you wants to finally break out and be free.
At least that's how it happened for me.
After coming home from the party I'm at in the "before" pictures I got on the scale out of curiosity and was mortified to see that I'd gained weight again. This happens every time I've ever gained weight and I think it can't possibly get worse, how could I possibly grow any larger? I started looking through pictures on Facebook and through family photo albums and was damn near tears by the time I was finished. I was not happy in half of the pictures and I looked horribly bloated in all of them. The time for change had arrived.
I've never been a particularly slim girl, however I've always been somewhat muscular from being a dancer and a horseback rider. Not that I was into hardcore sports or constantly attached to my computer (this IS the information age, after all), but I was never completely inactive. Prior to high school I weighed about 150-165lb and wore size 11/12 jeans from Delia's – a store that doesn't believe in hips. Or curves. I was currently wearing size 19 jeans from Alloy when I was thinking about this. I was going to cry, but then I decided that the time for tears was over.
I blame the majority of my weight gain on high school and my first year of college. I wasn't a good little girl that packed her lunch everyday – I bought pizza and french fries. Even though I dropped about 20lbs after the first semester of college thanks to depression, I came home and gained about 40lbs.
I spent the next several hours researching the hottest new diet pills, since I'd lost a fair few pounds on them before. The longer I spent researching, the more I thought about what a pill would do to my body and decided that I would do it the right way this time. A quick search for a BMI calculator online showed me that I was currently 40.6 on the BMI scale and that was Very. Bad. I found that a female that is 5'2″ should weigh between 100lb and 136.7lb. I decided that I'd probably be starving all of the time and look like a twig if I weighed 100lb I decided to set my goal at 130lb – a 92lb loss. So I had almost 100lbs to lose and a lifetime to gain. I was determined to get it right this time and end my yo-yo dieting and bad habits.
After meeting the halfway point to my original goal of 130lbs, I've decided to go the extra 8lbs for the 100lb loss and my new goal is 125lb.
My plan is to eat a 1200-1500 calorie diet, drink 8 glasses of water a day, exercise 30 minutes to 1 hour [exercise tv], and walk 50 miles per month. To date I've lost a respectable 30lbs and I am 1/3 of the way to my goal. I've lost a total of 29.5 inches on my bust, waist, hips and thighs. I'm down 2 pants sizes and I've dropped 1 dress size. I've discovered those happy exercise endorphins are in fact not a myth and I'm feeling great. I look better than I did in high school and I can tell I'm definitely more in shape. I've even started enjoying jogging.
Starting Weight: 225lbs – 5.19.09
Starting Measurements:
B: 44in
W: 47in
H: 46in
T: 45in
Current Weight: 161.6lbs – 1.17.10
Current Measurements:
B: 34.5in
W: 32in
H: 39in
T: 38.5in
Mini Goals:
-20 lbs/205lb – Achieved 8.29.09
ONEDERLAND! – Achieved 9.15.09
-10% Body Weight [199.8] – Achieved 9.15.09
-5 lbs in September – Achieved 9.30.09
195 by October 1 – missed by 2.5lbs, new goal is 192lb [-30lbs] by Nov. 1 Surpassed mid-month by 1lb 10.18.09 [191lb] – 1/3 of the way to Goal!
-40 lbs/185lb – High School high weight – Achieved 11.24.09
Halfway to Goal – 175lb – Achieved 12.27.09
"Overweight BMI"/163lb – Achieved 1.11.10
Fit into size 10 jeans (or smaller) by my 21st birthday, March, 31, 2010 – Achieved 12.09.09
-60 lbs/165lb – High School low weight – 2/3 of the way to Goal! – Achieved 1.09.10
-80 lbs/145lb
"Normal BMI"/136.7lb
-95 lbs/130lb – First Goal
-100 lbs/125lb – NEW Goal!
Before: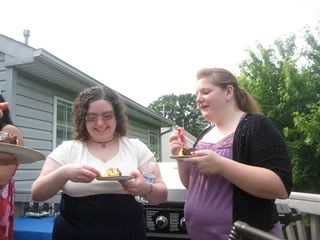 After:
Coming Soon!
Posted on October 20th, 2009 by platformnine
Filed under: About