Posted by jenteal on August 1st, 2010 |Filed Under Uncategorized | Leave a Comment
We took a little road trip up to Duluth, Minnesota yesterday to see the "Tall Ships" festival.  I was afraid that I was going to be tempted by all of the concession stands.  I'm proud to say I did not consume one drink nor any food while we were there.  On the way home, John wanted to stop and get some coffee but we could not find any coffee shops in the small town (where's a Starbucks when you need one) so we ended up stopping at a McDonalds so he could get a Latte.  Sitting there staring at the menu – oh so tempting!  Ultimately, I ended up getting the Wild Berry Smoothie which only has 210 calories.  Not bad for my dinner!
So I'm starting August at 265 Lbs.  15 Lbs less than I started July with.  I'm happy with that.  I'd like to get down to 250 Lbs by the end of August.
Plans for August:
-Step up my exercise by combining my cardio with some weight training. 
-Drink at least 140 ounces of water per day
-Gradually increase the amount of greens in my smoothies and decrease the amount of fruit.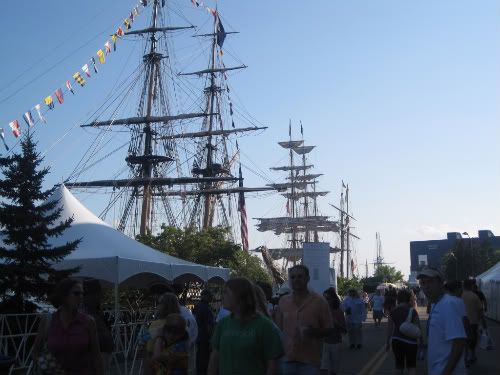 Comments