Hear ye, hear ye! The beads have been throwneth, the goods have been flash'ed, the packski have… hopefully NOT been ateth… and ye ole winner of the first annual Mardi Gras Mad Rush Challenge is… *drum roll*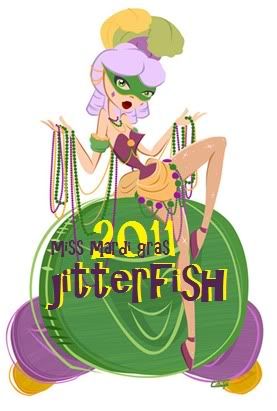 Jitter!!!
And the Queen shall reign supreme for one whole year filled with bragging rights, ball masks, and of course, your big pile of nearly 1900 beads! WAY TO GO GIRLY, you kicked major packski ass!
As for the rest of us, good go everyone! We all did uhhhhmazing. Absolutely uhmazing! I'm glad the contest took so well! Although I seem to be getting the elbow on the next one =P so I guess I won't be holding an April challenge after all. Maybe it's for the best, it'll be the end of my semester and I'm gonna need the time to study up for finals and whatnots.
In the meantime I can return to posting like normal and telling you all about my incredibly boring life. For example, I have pretty much broke my entire body. I'm still coming off my cold, my feet are KILLING me, and, oh yeah, that pulled muscle seems to be getting worse. I feel like my ribs snapped and punctured my lung or something. Seriously, inhaling has never been such a chore. Yikes.
Well enough of my bitching (for now), we're still in celebration!! Good job good job good job good job good job! Thanks for competing :D and make sure you ALL stop by jitter's blog and kiss her heighness' ring lest it be off with your head =3