It's not as kinky as it sounds. That would've required my honey pie to be in the pool with me and a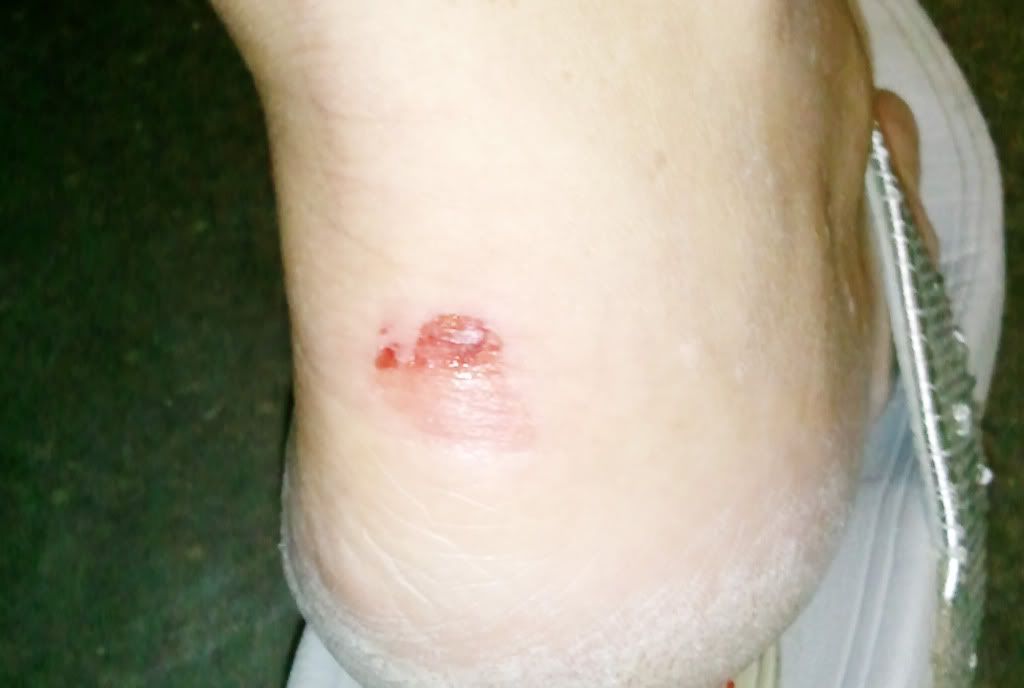 whole lot less kids out of there for that to happen. LOL.
The blister on my right foot I got when doing c25k w1d1 on Tuesday is still giving me fits. (See photo to the right and please ignore my dry heel. I really need some pampering in that area. Time for a parafin dip or something.)
As I mentioned yesterday about attempting w1d2 and not making it, I didn't want to be deterred. I'm all about being innovative and improvising.
innovative |ˈinəˌvātiv|
adjective
(of a product, idea, etc.) featuring new methods; advanced and original

New Oxford American Dictionary
Yep. That's me. Queen Innovator. I've become quite good at it, especially after I became a mom.
I figured why not just do the laps in the pool. Sure I might get dizzy going in circles but I could still get the benefits of the walking/jogging intervals. Other than not having speakers to hook my phone into and it not being very loud, it worked out pretty well. I just had Lilly stand by the ladder at the end to tell me when my beeps hit so I could start/stop jogging on time. I did start getting shin splints from the water pushing on them but once I was done, the pain went away.
The down side to working out in the pool was it was at my mom's and I had to do it after dinner and after being on the phone with Dish network for over 30 minutes. That means we didn't get home until after 9. I went ahead and ate my scheduled night time snack of a fiber one peanut butter chocolate brownie.  It put me at just over 1200 calories for yesterday. That was the only food I ate after 9 p.m.
I also woke up with horrible heartburn. The heartburn didn't start until I started changing the way I'm eating. I've been eating the smaller portions more frequently and it's helped. As long as I've eaten those snacks at bedtime, I haven't been waking up with the heartburn. This morning, it was the worst yet. I even lay back down after chomping on Tums. Ended up falling back asleep and coming in to work late. I was already a couple of hours over that I could burn so that wasn't a biggie. I don't know if the extra fiber I'm adding into my diet is causing it or what. I just know that I've NEVER had this problem outside of being pregnant and I know that's not the cause.
But…I do have one amazing positive! I am wearing a navy blue mini skirt I paid a buck for off the clearance rack a couple of years ago and was never able to squeeze my fat ass into complete with a red 22/24 shirt that was also too tight. Yay me!
Upcoming
Biggest Loser workout on the Wii tonight
C25k w1d3 workout either in my yard or in the pool if blister isn't better.
A look back at the ghosts of my dieting past. I do believe I may have learned something.