Ug it's TOM time and I am CRAMPING. I can't complain though cuz I guess cramping means I'm getting an actual period and not some dinky mock period thing! But hey I'm very happy today- here's how I look today: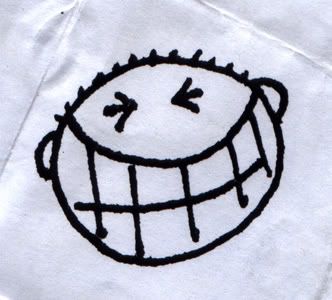 Yesterday I made a mistake and grabbed one of the regular jello's for my lunch instead of the sugar free ones- and I thought "oh it can't have that many carbs" but when I looked it up OMG 17 grams of carbs! Wasted on jello darnit. But oh well, my sister told me don't worry about the rest she'll eat it and now I have my sugar free jello's again for my lunches. I did have more snacks yesterday cuz I felt hungrier than normal, but I attributed that to TOM. And my sister is MEAN she's sitting there munching CHEEZ-IT! And the yummy hot ones!
Seriously I had to keep telling my TOM-ing brain "no, you can't have that, no no no." I didn't eat any btw 🙂 And that's alright CUZ I weighed in this morning (gah okay I can't stay away from the scale) and 210.5!!! WOO HOO! I can't remember WHEN I last saw that number! I've already noticed my stomach has gone down and jeans that I could put on that were tight are now looser 🙂
Yesterday I made Chili using Boca meatless meat- my sister took some vow of vegetarianism for a week so I've been accomodating her and was like this will work- everyone ate it all- I only got like half a cup!
This is the bowl I made for me that my sister stole!
My hubby had already filled a huge bowl for himself so there was only a little bit left lol.
So I was still hungry since my portion was about half of this! I ate the last of my low carb tortilla's with some cheese:
Yummy quesadilla! Now I'm all out of tortillas though- darn lol. That's okay I probably shouldn't be eating them on phase 1 (hehe).
After dinner did the dishes (again since I'm spending less time online more stuff is getting done around the house). Then it was crochet time! I'm pretty slow but I've been practicing the "single crochet" stitch.
I took some photos if you'd like to see:
Not perfect but not bad for my first time, I started with a long chain, then I'm going to finish going back with a single crochet, then go back with a double, and that'll be my "swatch." After that I'll actually attempt something real!
While I crocheted I watched Top Model (a pretty decent episode- the photo shoot was pretty good) and I'm happy about who they picked to send home- that person was getting on my NERVES! I also watched Ghost Hunters- not a good episode- they caught nothing and after that I went straight to bed- barely heard my husband get to bed afterwards.
OH OH OH today is going to be AWESOME! I'm going to see BRITNEY SPEARS in concert! WOO HOO!! 😀 Same concert I went to in Anaheim but this time in San Diego- I heard she's changed up some of her costumes and added two new songs- but hey- when you are going to see Britney even the same show is awesome! We are going to get food out because we won't have time, but I'll do the best I can to make good choices tomorrow 🙂 Here are some shots from the show we are going to tonight- she looks fabulous! Basically when I get home at 4:30 I have to start getting ready, then my sister gets home at 6:15 and then we have to get over to the Sports Arena (20-30 minutes away). Then we'll just go somewhere in the area and eat dinner before we go in. I figure if we get in by 7:45 we are good cuz the show starts at 8.
And here's a picture of the lovely lady I'm going to be seeing tonight 😉
Have a good day everyone!
Breakfast:
Kroger CowPals String Cheese & Twists, 1 serving 0
Hard Boiled Egg, 1 cup, chopped 1
Breakfast TOTALS: 1
Lunch:
Romaine Lettuce (salad), 4 inner leaf 1
Onions, raw, 1 slice, thin 1
Wishbone Just 2 Good Italian Dressing, 2 tbsp 3
Jello (Strawberry, 1 serving 17
Grilled Mediteranean Ahi Tuna, 1 serving (view recipe) 1
Lunch TOTALS: 22
Dinner:
Cheddar Cheese, 3 oz 1
Bana's Boca Chili, 0.5 serving (view recipe) 21
La Tortilla Factory – Low Carb Tortilla, 2 serving 20
Dinner TOTALS: 42
Snack:
Vlasic Snack'mms Kosher Dill Pickles (about 3 pickles per ounce), 2 oz 2
Cashew Nuts, dry roasted, 1 oz 13
Snack TOTALS: 11
Calories: 1,315
Fat: 70
Carbohydrates: 77
Protein: 114
Carbs were 22.1% of my daily intake.